By
Scott Brown
http://espn.go.com/blog/pittsburgh-steelers
February 17, 2014
PITTSBURGH -- He sat at a round table with a small group of reporters last week, having assumed the media responsibilities that are coach Mike Tomlin's domain during the season.
Wearing blue jeans and a pullover befitting the cold weather that appears to have no end in sight, Kevin Colbert talked publicly for the first time since the Steelers missed the playoffs in back-to-back seasons. That ignominious feat hadn't happened to the Steelers since Colbert returned to his native Pittsburgh almost 15 years ago.
His answers to questions ranging from the Steelers' salary-cap challenges, which also appear to have no end in sight, and the team's approach to the draft, were remarkably similar to ones he gives every year.
Just change the names, and it could be Colbert talking after any season -- whether the Steelers have won the Super Bowl or just finished 8-8.
[+] Enlarge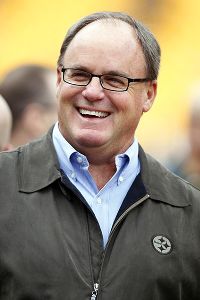 Charles LeClaire/USA TODAY Sports"It will never be acceptable for this organization to gut it and start over," GM Kevin Colbert said.
That consistency is what makes Colbert the pulse of the Steelers, an organization that moves deliberately no matter how much a source of frustration that can be to its fans.
Colbert is not prone to rash judgments. Nor is he a proponent of quick fixes.
For better (three Super Bowl appearances and two world championships from 2005-10) or for worse (back-to-back non-winning seasons), Colbert stays the course.
And that is exactly what the Steelers will do after hitting their first extended rough patch since Tomlin took over as head coach in 2007.
"It will never be acceptable for this organization to gut it and start over," Colbert said. "Our challenge is to compete and improve at the same time."
That charge seemingly puts as much pressure on Colbert as at any time since he took over the player personnel department in 2000.
Quarterback
Ben Roethlisberger
, as Colbert acknowledged last week, won't play forever and the Steelers have to maximize the snaps he has left.
They have to surround Roethlisberger with more talent and that starts with drafting better.
The Steelers have had mixed results since Colbert and Tomlin started running the team's drafts.
No player from the disastrous 2008 class that included wide receiver
Limas Sweed
and outside linebacker
Bruce Davis
is still on the team. The draft class that followed will have pretty much been wiped out as well if first-round pick
Ziggy Hood
signs elsewhere as an unrestricted free agent.
The Steelers needed more from both classes, which is why they are lacking both playmakers and depth at some positions.
Given that reality and how flush the 2014 draft is with talent the tendency might be for Colbert to fill as many needs as possible, confident that there are enough good players to do that and make up for past mistakes.
"You just can't do it," Colbert said. "If we bypass a great player to fill a spot we're going to disrupt the natural evolution of the roster. As tempting as it may be you have to avoid that."
The Steelers, in addition to following the draft board they put together over the next two-and-a-half months, will also stick with their fundamental philosophy of drafting with an eye toward 2015.
The Steelers, Colbert has long maintained, look at any contributions they get from their first-year players as a bonus and never go into a season counting on any of them to start.
There have been exceptions with Roethlisberger the most notable one and running back
Le'Veon Bell
the most recent one.
Such thinking may seem a little antiquated given that players can reach free agency sooner in the new collective bargaining agreement and how much pressure there is to win now. But Colbert refuses to waver or tweak his philosophy when it comes to the draft.
"I know that we believe that the longer a guy can delay his play," Colbert said, "the better his chances of succeeding in the long run."
Viewed through that prism, the Steelers' 2013 draft class looms as the more critical one, not the one it will assemble in the beginning of May.
Bell has to continue to evolve into a complete back who can become a focal point of the offense. Outside linebacker
Jarvis Jones
must make a big jump after managing just one sack his rookie season.
The same goes for wide receiver
Markus Wheaton
, who may have to start in 2014 with it appearing increasingly unlikely that
Emmanuel Sanders
returns to the Steelers.
And for all of the speculation that the Steelers will take a safety early in this year's draft, 2013 fourth-round pick
Shamarko Thomas
is the most logical candidate to add youth to the back end of the defense.
The 2013 rookie class will in many ways validate whether the Steelers' approach to the draft, to building a team that can compete for the Super Bowl on a regular basis, still works.
Panicking won't return the Steelers to prominence. Sticking with the plan that has resulted in more sustained success than most franchises over the last decade is the way back.
That is Colbert's ardent belief.
For better or for worse.