By Bob Klapisch
http://www.northjersey.com/sports
February 7, 2014
Kiner formed the original Mets broadcasting team with Lindsey Nelson and Bob Murphy. The trio stayed together for 17 years broadcasting the 1969 Amazing World Championship and the 1973 seven game World Series loss to Oakland.
The year was 1983, which Ron Darling remembers because it was his first full season in the majors. His Ivy League pedigree meant nothing to his fellow big leaguers – Yale-bred or not, Darling was just a nervous rookie trying to fit in on a Mets charter flight.
Suddenly, the voice of a legend beckoned.
"Young man, would you like to join us?" Ralph Kiner asked, gesturing toward the empty place at the broadcasters' card game. Darling wheeled around in a who-me 360-degree sweep of the aircraft, but Kiner just nodded and smiled. The Hall of Famer – "the Renaissance Man," as Darling would call him in later years – was offering friendship to a player he barely knew.
That's a rite of passage you'd never hear about today; media and players never socialize, and anyone who's made it to Cooperstown doesn't have time for newbies. But that's what made Kiner so unique to the baseball community – how he carved out a magnificent career as a home run hitter, how he became a cult hero as a Mets broadcaster from 1962 to 2006 and mostly, how he treated people.
"Ralph had this ability to just bring you in," Darling was saying by telephone. "You just wanted to be around him, be his friend, and be part of whatever he gave you. I cherished him. We all did."
The news of Kiner's death on Thursday hit everyone hard, although there's no denying he led a rich, full life. And ­wouldn't you know, gentle as Kiner was, he left this earth just as peacefully, of natural causes at age 91, surrounded by family in his home in Rancho Mirage, Calif.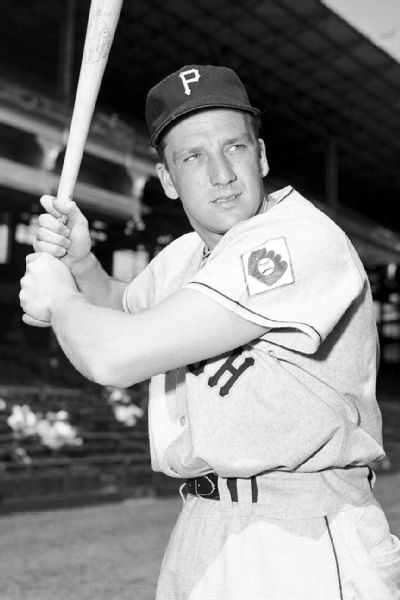 Kiner's legacy extended far beyond the booth, of course. Blessed with the strength to reach the fences in the late 1940s and early '50s, Kiner led the National League in home runs in his first seven seasons with the Pirates. He slugged 329 HRs through his age-30 season, more than Barry Bonds at the same stage of his career and only 37 behind Henry Aaron.
A debilitating back injury kept Kiner's career from mushrooming toward Mickey Mantle-like heights, and in fact, forced him to retire in 1955 after only 10 seasons. But the best stretch of Kiner's life was still ahead of him, and not just because he would become part of the Mets' original broadcast team in 1962.
Kiner, handsome and charming with a movie-star smile, was the George Clooney of his era, hanging out with Bing Crosby, Frank Sinatra, Bob Hope and Jack Benny; dating, among others, Elizabeth Taylor and Janet Leigh. Kiner married four times, including to 1950s tennis star Nancy Chaffee, who died in 2002. He had what Darling called "the perfect life," even in combat in World War II. Kiner flew bomber patrols over the Pacific and came home without a scratch.
Still, his connection to baseball was never as strong or as enduring as it was in front of the microphone or the TV camera. The snippet of kindness Kiner showed Darling at 30,000 feet was precisely how he treated the rest of the world, like a friend, without ego or guile or attitude. It was impossible to dislike Kiner, impossible to ignore how much he loved talking about the game and, specifically, the Mets.
No one dared to miss Kiner's favorite gig — postgame chat with the star of the game called "Kiner's Korner." The show itself lasted only 15 minutes, but it filled a generation of memories. Kiner was part Phil Rizzuto storyteller, part Mister Rogers and part you-and-me, an easygoing, self-effacing broadcaster who represented everything that TV no longer considers hip.
Kiner, after all, wasn't shy about his malaprops; he made a career out of them. Among his all-timers were:
"If Casey Stengel were alive today, he'd be spinning in his grave."
"We'll be back after this word from Manufacturers Hangover."
The list goes on forever, of course, but no one ever minded, if only because Kiner was so honest. In an age where broadcasters love their voices more than the sport, where home run calls are more important than home runs, Kiner's analysis was as accurate as it was unaffected.
All the years of his underrated stardom in Pittsburgh allowed Kiner to make the leap that most stars cannot. Not only did he excel in baseball, but he understood and could explain it, as well. Bob Ojeda told the New York Daily News on Thursday what it meant to be interviewed by Kiner: "For the first time in my major league career, I was being asked questions by a guy who got it."
That's why Kiner's reputation kept growing beyond the franchise's infancy and well past the '80s-era heyday. Even in the early 2000s, after Kiner had suffered a stroke that slowed his speech, he was universally respected by players, executives and journalists alike. You saw Kiner in the dining room, you stood up to shake his hand. You shared a ride with him in the press elevator, you made sure to ask his opinion of that night's game. Kiner saw, he knew, and most important, he was happy to share his expertise with anyone.
"Ralph was never that 'hey, how ya doin' big fella?' type of person," Darling said. "I've been around a lot of Hall of Famers and believe me, none of them were like Ralph. That's why I'll miss him."
Even when Kiner struggled with his words at the end, he never lost the gift of touching people. Darling is right: There's no replacing Kiner, the great communicator, right to the end.
- See more at: http://www.northjersey.com/sports/Klapisch_Legendary_voice_of_the_Mets_silenced_after_a_half_century.html#sthash.DhuDpGCY.dpuf