By John Perrotto
http://www.timesonline.com/sports
July 9, 2016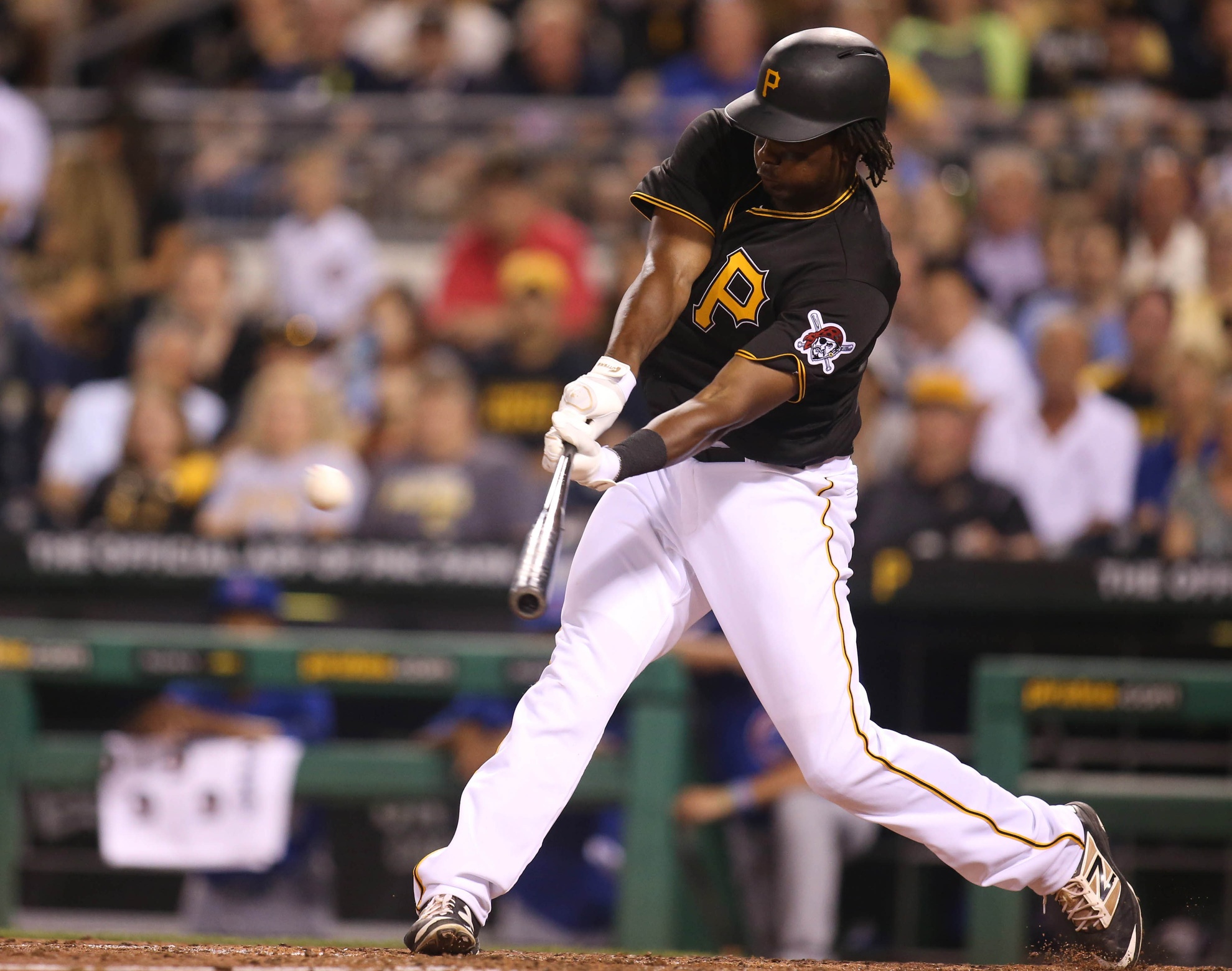 Josh Bell singles in his first major league at-bat on Friday night
.
PITTSBURGH --- Josh Bell is the latest highly touted prospect to get called to the major leagues by the Pirates.
The 23-year-old switch-hitting first baseman was recalled from Triple-A Indianapolis on Friday night before the opener of a three-game series against the National League Central-leading Chicago Cubs at PNC Park.
Bell was not in the starting lineup and manager Clint Hurdle said he will be used off the bench. Hurdle also said Bell would most likely be sent back to Indianapolis following the series finale Sunday.
However, when Bell got the chance to pinch-hit in the seventh, he singled to spark a four-run rally and scored what proved to be the winning run as the Pirates won 8-4 for just their second victory over the Cubs in 10 games this season.
Bell's hit came off reigning NL Cy Young Award winner and Pirates nemesis Jake Arrieta, who lost to Pittsburgh for just the second time in 11 career decisions and 12 starts.
Bell's single put runners on first and third with none out, and John Jaso followed with an RBI single that tied the game, 4-4. Bell then scored the go-ahead run from second base when Gregory Polanco reached on first baseman Anthony Rizzo's throwing error.
"I'm on top of a cloud right now, I'll tell you that," Bell said after the game. "It's an incredible experience, feeling that ball come off the bat and running to first base. I can't draw it up in a better way, especially against that team and that pitcher."
"I'm Just up here to get my feet wet before the All-Star break. I'm really excited. It's the start of the next chapter. It's a dream come true for me. To be able to help the team win in my first game is pretty amazing."
Right-hander Tyler Glasnow was optioned to Indianapolis a day after making his debut at St. Louis. He allowed four runs in 5 1/3 innings while taking the loss.
Glasnow became the fourth Pirates' starting pitcher to make his major league debut in the last month, joining righties Jameson Taillon and Chad Kuhl and left-hander Steven Brault. The last time the Pirates had as many starters debut in the same season was 1903 with six.
Utility players Adam Frazier and Alen Hanson also have played in their first major league games this season along with right-handed reliever Wilfredo Boscan and catcher Jacob Stallings.
Bell was hitting .324 with 13 home runs and 53 RBIs in 83 games at Indianapolis, leading the International League in hits (101), extra-base hits (36), total bases (167) and slugging percentage (.535)
The knock on Bell in past seasons was that he showed a lack of power, particularly for someone who is 6-foot-2 and 245 pounds. However, he started driving more pitches this season and is playing better defense after the making the transition from right field last season.
The 13 homers match his career set in 2013 at low Class A West Virginia.
Bell said he feels as though he is getting his feet under him this season.
"Continuing to build that foundation at first base," Bell said. "From an offensive side of the ball, just trying to drive the ball more consistently. I feel I've done a good job of that. Just trying to be a tough out."
The Pirates selected Bell with the first pick of the second round of the 2011 amateur draft from Dallas Jesuit College Prep. During his senior season, Bell wrote to all 30 major league teams and asked them not to draft him because he planned to honor his commitment to play at the University of Texas.
However, the Pirates persuaded him to pass up the scholarship by giving him a $5 million signing bonus, the largest for a player chosen after the first round.
Bell since has made a steady climb through the farm system. On Friday, Baseball America rated his as the 38th-best overall prospect in the game and third in the Pirates' organization behind Glasnow and Double-A Altoona center fielder Austin Meadows.
"As the season's gone on, he's gotten a little stronger," Hurdle said. "The power's shown up. He's worked hard to get this opportunity."