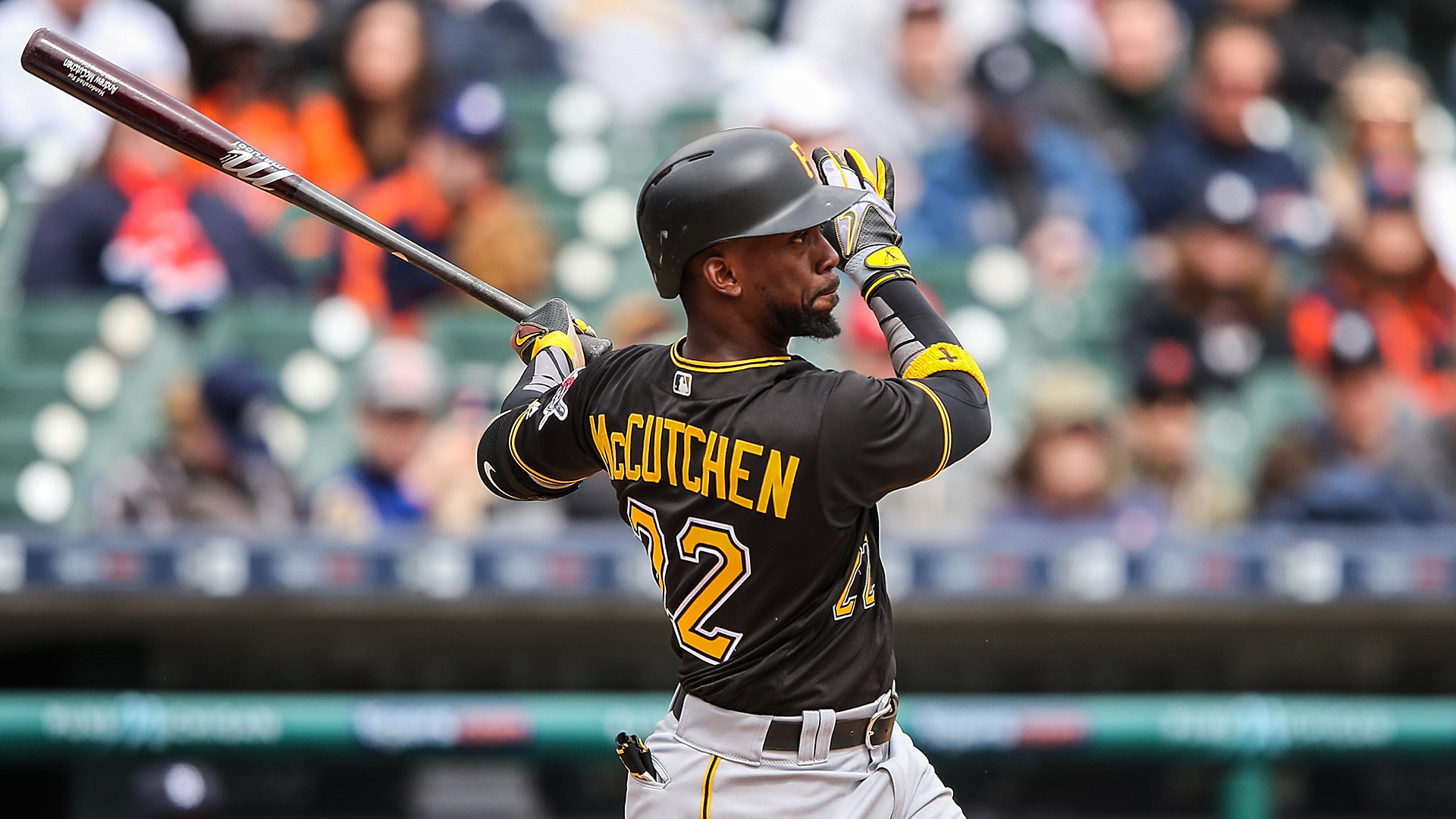 WASHINGTON — Tucked away on the concourse behind left field at PNC Park is a sculpture honoring Ralph Kiner, the second-leading home run hitter in Pirates history.
It's not a full-body statue, like the imposing figure of Willie Stargell, the franchise's home run king, that stands outside the ballpark. Rather, it's a cast of Kiner's strong hands, which slugged 301 homers while he played in Pittsburgh.
If the Pirates someday erect a marker for Andrew McCutchen, who is ascending the club's all-time home run list, perhaps Kiner's tribute will serve as a template.
If so, it would be a sculpture of McCutchen's hips.
"I always thought power was about quick hands," McCutchen said. "But it has to start from the bottom up. The hip rotation and the hip speed are what develops the power."
McCutchen came to that realization a couple of years ago when researchers tacked sensors onto his body and analyzed his swing.
"I hit off a tee a couple of times and they said, 'Man, your hip rotation is unbelievable,' " McCutchen said. "That's where the power comes from."
McCutchen's next home run will be No. 166, which will move him past Brian Giles and into a tie with Dave Parker for fifth place in franchise history.
"I didn't know that," hitting coach Jeff Branson said. "You wouldn't think that, comparing McCutchen to Parker, because they're two totally different body types, two totally different guys."
Parker was called the "Cobra" because of his powerful build (6-foot-5, 230 pounds) and long, smooth swing.
McCutchen is 5-10, 190 with a fast, compact swing. He's nearly matched Parker's homer total with the Pirates, despite having played in 177 fewer games.
"We all know that you don't have to be the biggest person to play this game," McCutchen said. "Look at what (5-6 Jose) Altuve is doing; he's got 15 homers. Willie Mays wasn't the biggest guy in the world, and he hit over (600) homers. All I can say is, it's a God-given ability to be able to swing the bat."
Over the 130 seasons the Pirates have been in the NL, only two of the team's right-handed batters — Hall of Famers Kiner (301 homers) and Roberto Clemente (240) — have gone deep more often than McCutchen.
McCutchen was not a prolific slugger in the minors. In 2006, his second year as a pro, McCutchen hit a combined 17 homers at Single-A and Double-A levels. In 201 games at Triple-A in 2007-08, he went deep 14 times.
Those were learning years. In 2006, McCutchen discovered what it means to "load up" at the plate during a batting practice session with Branson, who then was his manager at Hickory.
"He told me, 'You need to load into it' and I was like, 'Load? I don't know what that is. What are you talking about?' " McCutchen said. "He showed me to get on my back leg a little more as the pitch is coming."
McCutchen tried that on the next pitch and hit a titanic clout over the wall.
"I just looked at him, and he looked at me," McCutchen recalled. "I said, 'Wow, there's more in there.' That was the first time I ever experienced a difference. I made a physical adjustment with my body and got more power behind the ball and more direction. That was really cool."
Two years later, McCutchen spent the offseason at Pirate City in Bradenton, Fla., hitting off the curveball machine. He was developing power, but it was mostly on pitches he pulled to left field.
As dozens of swings became hundreds, McCutchen learned to poke the ball over the fence in right-center field.
Armed with uncanny hip rotation to generate torque and knowledge of how to hit to all fields, McCutchen needed just one more thing to start attacking the record book.
"If you're going to put numbers up in this game, you have to play," manager Clint Hurdle said. "That's one of Andrew's strengths — his desire and ability to post up, even when he's not 100 percent."
The past couple of seasons, especially, McCutchen has been able to produce when his body is much less than 100 percent.
"Some mornings you wake up and, man, it's tough. Your body just hurts," he said. "If there's something physically wrong to where I can't even swing, then I won't play. But, it if's something I can battle through, then I'll do it."
Although he's batting just .244, McCutchen has hit 14 homers. He's on pace to finish with 25, which would tie him with Barry Bonds on the Pirates' list.
McCutchen laughed when he was asked how it would feel to end his career as one of the Pirates' most prolific sluggers.
"I try not to think so far ahead," he said. "But to think it could even be mentioned now is really neat because I don't think my career is close to being done yet. Hopefully, I can keep going, keep playing, keep making history."
If McCutchen does that, maybe that bronze replica of his hips will someday be unveiled at PNC Park.
"Aw, I hope not," he said, laughing. "Just the hips? No, that would not be good."