July 4, 2016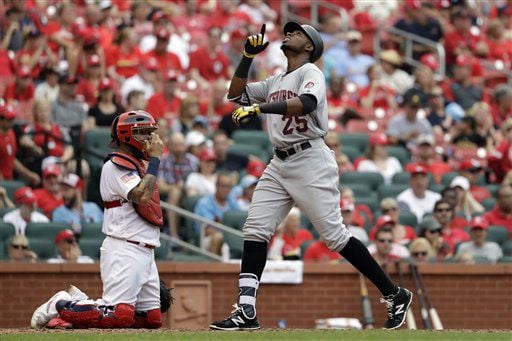 Pittsburgh Pirates' Gregory Polanco, right, looks skyward as he scores past St. Louis Cardinals catcher Yadier Molina after hitting a solo home run during the eighth inning of a baseball game Monday, July 4, 2016, in St. Louis. (AP Photo/Jeff Roberson)
After dealing with a sore hamstring that limited him to the role of designated hitter in four of Pittsburgh's previous five games, right fielder Gregory Polanco largely was a game-time decision Monday as the Cardinals and Pirates began a four-game series at Busch Stadium.
"He was working out, going through a workout period, so it was close to noon, maybe 11:45, before he told me he felt he could navigate out there, that he could play," Pittsburgh manager Clint Hurdle said when asked about Polanco's availability.
Being a DH was not an option for Polanco this time — it isn't used in National League parks.
"Could he go blow it for a ball?" Hurdle asked. "No, and that's the reason we made the moves we did at the end of the game. We wanted more room for the pitcher's spot if something happened and we also wanted somebody (Adam Frazier) out there who'd be able to go and get a ball in the gap."
But by the time Frazier took over in right field to start the Cardinals' ninth, Polanco already had done his damage — connecting for the first two-homer game of his career to key a 4-2 victory that allowed the Pirates to extend their winning streak to five games.
The loss halted the Cardinals' win streak at three.
"It's always great to win, at home or on the road, but it feels even better when you get the 'W' here," Polanco said through an interpreter. The Cardinals "are a great team and it's always a battle when we play them."
In his third major-league season, Polanco, 24, said that he first felt some discomfort in the left hamstring late last week and that he only notices it when he runs. He struggled down the first base line in the first inning Monday, when he hit into a 4-6-3 double play, and again while striking out to open the fourth.
But with the Cardinals ahead 1-0 in the sixth, it was a different story. John Jaso led off with a double and Polanco rocketed a 2-1 pitch over the wall in right to put the Pirates on top to stay, 2-1.
"That one he clipped to right, that's out of here in three blinks of an eye," Hurdle said.
With the Pirates up 3-1, the lefthanded swinging Polanco greeted Cardinals reliever Seth Maness with a shot down the left-field line that stretched the Pittsburgh lead to 4-1.
"That's his second opposite-field homer here," Hurdle pointed out. "Just a real strong performance from him today."
After Monday's big game, Polanco is hitting .298 with 12 homers, a team-leading 50 RBIs and nine steals this season. And he seems particularly at home at Busch Stadium — in 19 road games against the Cardinals, he's batting .348.
"It feels marvelous," Polanco said of his first two-homer game. "The hamstring, it's feeling better each day with the treatment and conditioning and all that stuff. It doesn't really hurt at the plate — I'm grateful for that — it just gets a little tight when I run. Soon, I'll be 100 percent again."
With the win Monday, the Pirates moved over .500 for the first time since June 15. Pittsburgh has won five in a row and eight of 10 on the heels of losing eight of nine last month.
"We're in a great place right now," said Hurdle, whose club will follow its stint here with a three-game weekend set against the NL Central-leading Cubs in Pittsburgh. "We'll continue to work and to feed off one another. A lot of things in this game are contagious."
Jonathon Niese, Monday's winning pitcher, agreed.
"We have a lot of talent and we have a little bit of a swagger going right now," he said. "It always feels good to win and we're having a lot of fun. Hopefully we can find a way to keep it going."
PIRATES PITCHING CHANGE
Following Monday's game, Hurdle told reporters that Tuesday's scheduled starter, prized prospect Jameson Taillon, was headed to the 15-day disabled list because of right shoulder fatigue.
The Pirates will promote lefthander Steven Brault from Class AAA Indianapolis to make his major- league debut.
Taillon, the second pick in the 2010 draft, is 2-1 with a 3.86 earned-run average in five starts this season. Brault, 24, is 2-3 with a 2.57 ERA in eight AAA starts.