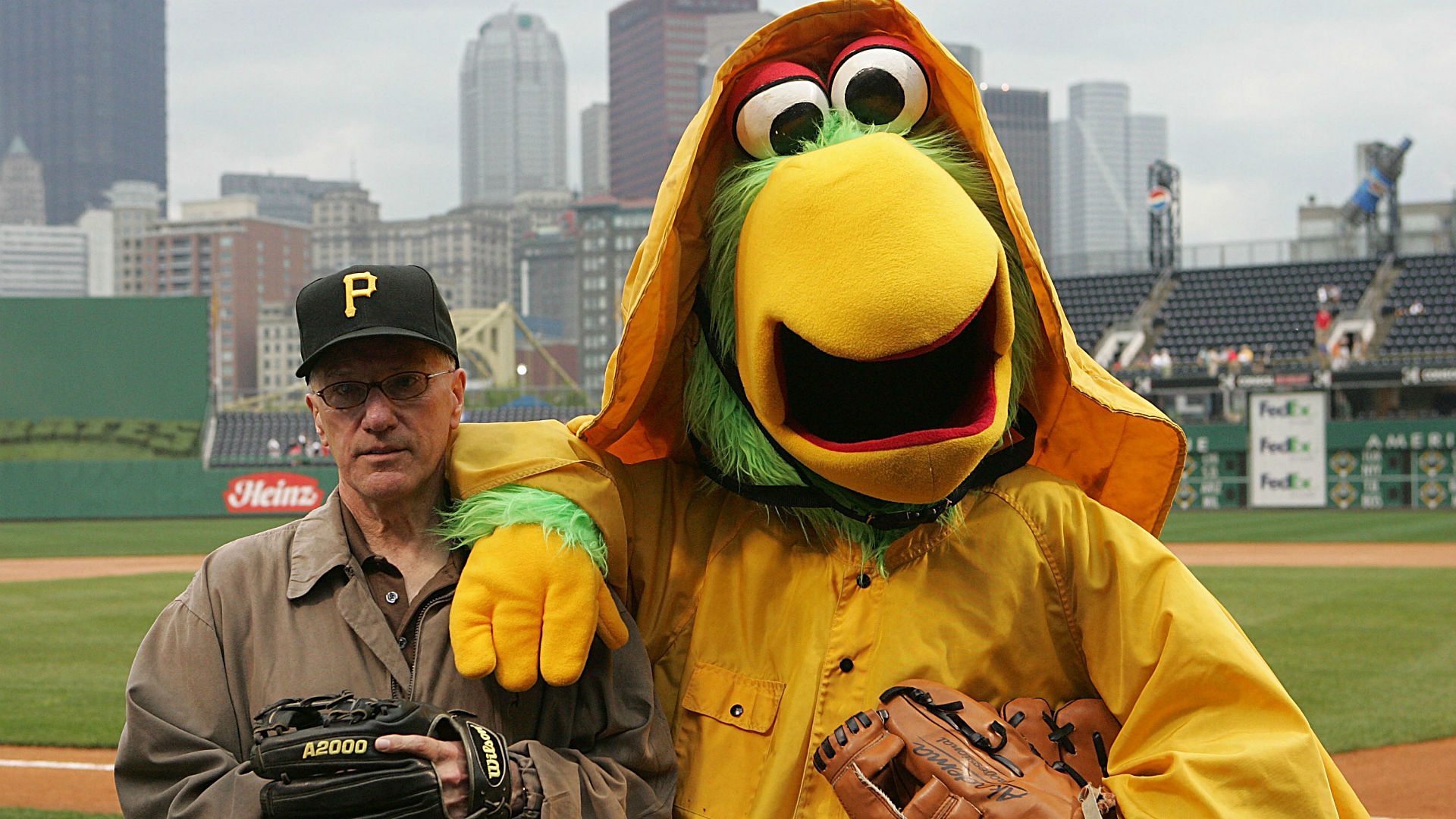 In honor of his induction in the Hockey Hall of Fame, broadcaster Mike 'Doc' Emrick is greeted by the Pirate Parrot prior to the game between the Pittsburgh Pirates and the Houston Astros on June 3, 2008 at the PNC Park in Pittsburgh, Pennsylvania. (Brucec Bennett/Getty Images)
This week, Mike "Doc" Emrick returns to Pittsburgh for the first time since the Stanley Cup final nearly a month ago.
Only this time, instead of providing hockey play by play for NBC, he'll be part of MLB Network's broadcast of Friday night's Pirates-Cubs baseball game with Bob Costas.
"It's exciting. It's one of those things where you have to pinch yourself," said Emrick, a lifelong Pirates fan. "You realize how serious it is when you'll be sitting next to the voice of baseball in Bob Costas. You want to make sure you're ready for this. I've been following the Cubs a little more than usual. It helps to have two very cordial managers to work with, too, since our preparation time with the players is limited."
While Emrick is dabbling in Pirates baseball commentary, he's been a stalwart hockey broadcaster for four decades. A former Geneva College professor, he got his first NHL exposure covering the Pittsburgh Penguins as an unpaid correspondent for the Beaver County Times in the early 1970s. He remains impressed with how the Penguins' season played out this summer – with the franchise's fourth Stanley Cup.
"It was a marvel what happened. These things don't happen much in the salary cap era. It was fascinating what happened from December on," he said. "It is fun for us as broadcasters. It's not often you see a team turn around that radically during the season. It becomes a fun story to follow. We don't take sides in this, but we just like fun stories. The story just sung by the time it was all over."
As NBC's lead hockey broadcaster, Emrick had a good view of the Penguins' metamorphosis from a team on the edge of the playoff picture in December to a squad that knocked off the Rangers, the Presidents' Trophy-winning Capitals, Lightning in seven games and stifled the Sharks in six games to hoist the Cup.
"Some decisions were made by (Penguins GM) Jim Rutherford that were huge. You can look back perfectly in hindsight now and see the first and most important one was firing Mike Johnston and promoting Mike Sullivan to head coach," he said. "(Sullivan) had a phenomenal run in Wilkes-Barre/Scranton and he came in with such a positive attitude. He told the star players to just play.
"After that, they added speed to the team. (Carl) Hagelin was a marvel. Then you had the HBK line step up," he continued. "Then you look at their 'no-name' defense. They just had the confidence to keep going. I would have never guessed in January that guys like (Brian) Dumoulin would be as huge as they were."
Emrick believes the biggest impact came from Sidney Crosby. A two-time scoring champion, Crosby was tied for 79th in scoring with six goals and 13 assists in 28 games when Sullivan took over on Dec. 12. He tallied 30 goals and 36 assists in his next 82 games to finish third in the scoring race.
"As people watched him during the first two months, there were probably people wondering what the Penguins could get for him in a trade," he said. "I think we were concerned about Sid's health. When you see a guy struggle as badly as he did, you wonder if this was it for him. I am sure it crossed a few minds. Fortunately, it was not the end. Boy did he ever bull his way out of that slow start. He became a dominant player again. Instead of being another forward who went out for his 18 or 19 minutes of ice time, he became a dominating presence like he was when he came into the league 11 years ago. When you look at it as a league-wide game, it's great to have the best star players performing the way the best star players can."
Emrick noticed Crosby's presence more so in the postseason as he claimed the Conn Smythe Trophy as the playoff MVP.
"The Penguins were fast and teams couldn't get out of their own end because Pittsburgh's forecheck was so strong. The last two rounds, the Penguins dictated the play. He was a huge part in the Penguins just overwhelming teams," he said. "He was a dominating force even in games he didn't score. Sid was just unbelievable down the stretch. Then you add in Evgeni Malkin and the HBK line and they had such great depth. How do teams deal with all these threats?"
Emrick believes the Penguins have a good shot of defending their Stanley Cup championship next season.
"There's no reason they can't be good when you look at all the guys who are coming back," he said.
Next hockey season can go to the back burner for now. Emrick is ready to call some baseball action.
"We do have a game to cover and we do have some things we'll have ready to share," Emrick said. "We will just have a good time. That's our objective."