By
Scott Brown & Mike Reiss
| ESPN.com
http://espn.go.com/blog/pittsburgh-steelers
November 1, 2013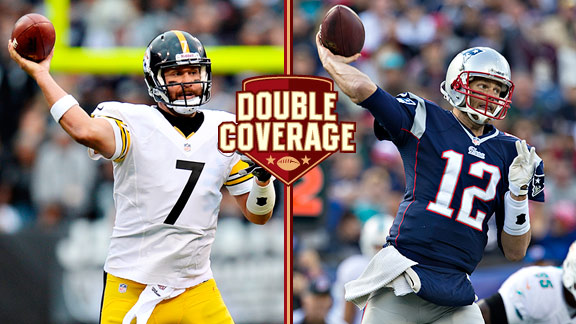 Getty Images
Ben Roethlisberger leads the struggling Steelers against Tom Brady and the injury-plagued Pats.
When the NFL schedule was released six months ago, an early November game between the visiting
Pittsburgh Steelers
and
New England Patriots
looked like it would be a clash between two of the top contenders in the AFC.
Yet as is often the case in the ever-changing NFL, it hasn't unfolded that way.
The Steelers (2-5) are starting games slow, and in turn, their season got off to slow start. Meanwhile, the Patriots are 6-2 but have looked like a 2-6 team at times.
Can the Steelers turn it around? Will the Patriots ultimately play more consistently and have the look of a contender?
ESPN NFL Nation reporters Scott Brown (Steelers) and Mike Reiss (Patriots) help us break it down.
Reiss:
Scott, take us inside the Steelers locker room for a feel on where things have gone wrong this season.
Brown:
I think the players are truly perplexed at how they have gotten to this point. Effort hasn't been an issue, and the Steelers have gone into the fourth quarter of every loss this season with a chance to win. Injuries have been a problem, but they can't be an excuse since most if not all teams have to overcome them during the course of the season.
The biggest problem has been the different units not playing well off one another for the most part this season. The offense couldn't do anything in the first two weeks of the season, but the defense kept the Steelers in both games. Two weeks later in London, the offense finally broke out but the defense couldn't stop
Matt Cassel
of all quarterbacks in a loss to the one-win Vikings.
The Steelers' 21-18 loss at Oakland offers a perfect summation of the kind of season they have endured. The defense played lights out in the second half after a shaky start.
Ben Roethlisberger
brought the Steelers back in the fourth quarter as he has done so many times throughout his career. In the end, the Steelers fell agonizingly short in large part because kicker
Shaun Suisham
, who had been automatic this season, missed a pair of field goals inside of 35 yards.
It seems like the Patriots have been just the opposite of the Steelers this season in that they find ways to win. I'm not sure many outside of New England can name the Patriots' wide receivers and the defense has had to overcome the losses of nose tackle
Vince Wilfork
and inside linebacker
Jerod Mayo
.
Mike, how are the Patriots doing it?
Reiss:
It's a question that even
Tom Brady
recently acknowledged was a good one, because it has looked ugly at times. If I had to sum it up, the answer would be that their depth players (e.g. rookie defensive tackles
Joe Vellano
and
Chris Jones
) have answered the challenge when pressed into bigger roles and the team has made the few critical plays in the crucial situations that often determine the outcome of games. Furthermore, their turnover differential is solid, as it usually is with this team. That's one of the big differences I noticed between the Patriots and Steelers -- the Patriots are plus-7 and the Steelers minus-9.
I know it's probably an unusual question, as punters aren't often a hot topic of conversation, but I'm sure Patriots followers are interested to hear about what unfolded with
Zoltan Mesko
, who punted in New England from 2010-2012. Also, maybe a little bit on receiver
Emmanuel Sanders
, whom the Patriots tried to sign to an offer sheet in the offseason as a restricted free agent that the Steelers matched.
Brown:
You knew Mesko had been served notice when Mike Tomlin said last week that the former Patriot needed to eliminate the one "junior varsity" punt he seemed to have a game. You knew he was in trouble when Tomlin gave him an earful as Mesko walked to the Steelers' bench after a 30-yard punt last Sunday in Oakland.
Some might argue he took the fall for the Steelers' third consecutive loss in Oakland since punters are so expendable, but Mesko didn't help himself with the inconsistent punting that ultimately earned him a pink slip.
Sanders has had his moments, but he has too frequently been what Tomlin would call just another guy. The fourth-year veteran is still without a 100-yard receiving game this season -- and his career. The Steelers should be getting more production from Sanders (31 catches for 396 yards), particularly with
Antonio Brown
drawing so much attention from opposing defensive backs. I'm guessing the Steelers now wish they hadn't matched the Patriots' offer to Sanders and taken a third-round draft pick for him.
Speaking of receivers, Mike, can you provide an update on
Danny Amendola
and how much of an impact he might make Sunday? Count me among those who just assumed that New England would be able to plug Amendola into
Wes Welker
's spot with little to no drop-off at slot receiver because of Brady's greatness.
Reiss:
Interesting thoughts on Mesko and Sanders. Mesko was a very popular player in New England and many were disappointed to see him lose a training camp competition to rookie
Ryan Allen
. The Patriots took some heat for that, as they did for not being more aggressive with their offer sheet to Sanders, who could be a Patriots target in free agency again this offseason.
As for Amendola, the big issue has been health, which is a knock against him that he's fought over his NFL career. He was sensational in the season-opener against the Bills, but injured his groin and was knocked out for the next three games. Then he came back for two games, but in the second contest suffered a concussion which knocked him out for another game. So he's only played four games this season, and the groin is probably something that's going to have to be managed throughout the season. In his first game back from the concussion this past Sunday, Amendola had three catches for 15 yards and played 39 of 65 snaps (including penalties). That number is likely to rise in the coming weeks, so he should be a bigger factor.
I'm thinking big-picture here, because one of the big questions here in New England has been when the Patriots' run of success might end. It seems like it's been talked about, on and off, since 2006. What are your thoughts about the Steelers along these lines? Are they positioned for success, or are we witnessing a franchise primed for a little slide?
Brown:
Rebuilding is a blasphemous term around a facility that displays six Lombardi Trophies in its library. The Steelers won't even use the word transition when talking about where they are as a team. That said, all signs point to the Steelers being in decline. They need to win six of their last nine games just to go 8-8, a record they deemed unacceptable after posting it last season.
Their defense isn't getting any younger and it's still too early to tell if youngsters such as outside linebacker
Jarvis Jones
and cornerback
Cortez Allen
will be difference-makers. I do think the Steelers have the most important piece in place as far as turning it around -- whether it is this season or in 2013. Roethlisberger is still in his prime, and if you have a quarterback in the NFL, you have a chance.
The Patriots have been masterful this season in finding ways to win, something the Steelers used to do with regularity. But are they legitimate Super Bowl contenders, and what do you need to see from them to believe that they are?
Reiss:
I wouldn't count them out, Scott. Bill Belichick and his staff have been coaching their tails off, and in the end, you have to give credit to the players for stepping up in the critical moments. It hasn't always looked pretty, but I see enough in the key areas -- such as turnover differential, adapting to elements, situational defense and the like -- to think this team will be a factor coming down the stretch. That's the thing about the NFL. It's not necessarily what you look like right now, it's what the picture will look like as we get to Thanksgiving and beyond, assuming you're still in the hunt. They've positioned themselves well at this point.