By Dejan Kovacevic
http://triblive.com/sports/
Published:
Thursday, Nov. 14, 2013, 11:06 p.m.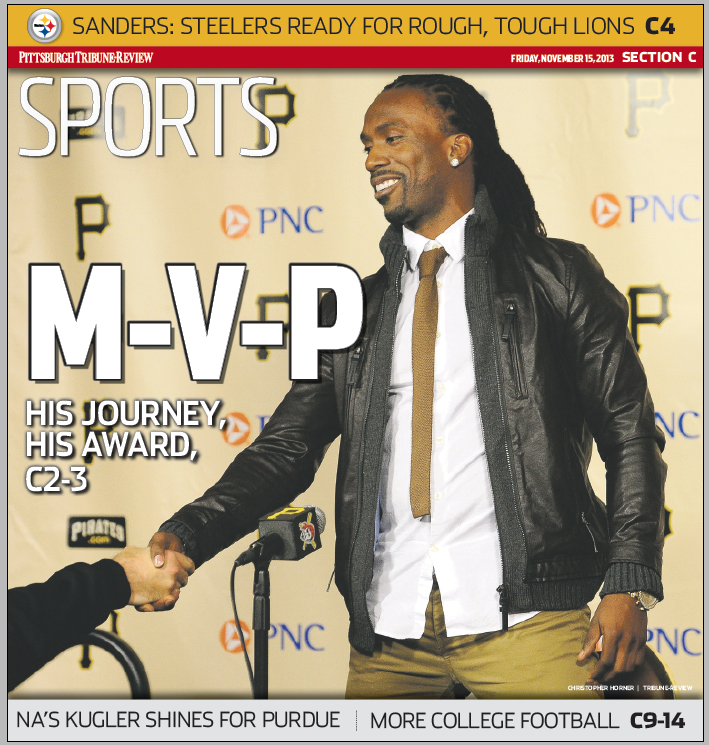 A baseball star isn't born so much as he's brought to light, then bred. And he doesn't blossom so much as he finds fresh ways to bounce back from the sport's unforgiving rate of failure.
Which is to say, it isn't anywhere near as easy as Andrew McCutchen always has made it look.
Not the uncanny combination of patience and violence at the plate.
Not the all-hyperdrive diving, sliding, leaping glovework.
Not the bending of the time-space continuum rounding second for third.
Not raising a franchise from the dead, almost singlehandedly at times.
Certainly not being the best in his class.
And yet there was McCutchen — by now, he's just Cutch to us all — on this very special Thursday night for himself, for the Pittsburgh Baseball Club, for its revived fan base, seated casually on a folding chair in the home locker room at PNC Park, unflinching and unmoved by a flank of cameras, as he awaited the official announcement of the National League's Most Valuable Player award.
"I wasn't sure what to think," he'd recall later. "Might have been nervous."
Yeah, I wasn't buying that, either.
When the call came on MLB Network at 6:48 p.m., he was, indeed, MVP. And he sprinted off with 28 of the 30 first-place votes from baseball writers, leaving barely a parting gift for Yadier Molina or Paul Goldschmidt.
He did it easily, as ever.
Just like that easygoing little shuffle-dance he did upon the actual word. It was wonderful. Quintessential Cutch.
"If I had a little room and some music, I'd have gotten up and done a
real
dance," he said. "That's how I feel."
No, this extraordinary young man, as simultaneously focused and fun-loving as any I've covered, didn't exhale or wipe his brow. He danced.
It isn't supposed to look so easy. But it's always been that way for Cutch.
In 2005, Ed Creech, the Pirates' scouting director under Dave Littlefield, had been getting compelling reviews from the scouts he'd been dispatching to Fort Meade High School in central Florida. They loved Cutch's speed, the muscle-twitch in his wrists, the backspin off his bat ... but it didn't mean much.
"It's a risk drafting a high school kid at No. 11 overall," Creech said Thursday from Venezuela, where he was on assignment for the Giants, his current employer. "But it was that much tougher to gauge with Andrew because of the competition he was facing."
Which wasn't much at all. Brian Graham, the Pirates' farm director at the time and now with the Orioles, once watched Cutch play an opponent that was starting mostly eighth-graders.
So Graham had an idea: The Pirates would whisk Cutch to their complex in Bradenton for some private tests. Rajai Davis, a speedy outfield prospect who went on to major league duty, was invited to provide a man-on-man challenge.
It should have scared a 17-year-old right out of his spikes.
"Scared?" Cutch recalled Thursday with a grin. "Aw, no way. To me, it was lose-lose. Rajai was
supposed
to be better. I just relaxed and had fun with it."
That's what the brass saw, too.
"That day, watching Cutch hit and run right alongside Rajai, that was it for me," Graham recalled Thursday from his Cranberry home. "All the tools were there. We all saw that. But the makeup, the drive to go compete with someone like Rajai … that sold me."
Creech had already made up his mind. He'd signed Marquis Grissom while with the Montreal Expos and was convinced McCutchen was that caliber, maybe better. Still, the Pirates debated drafting Jay Bruce, now an All-Star with the Reds. Creech had been flying back and forth from Florida to Texas to see both. But McCutchen, partly because of that tryout, wound up "our guy across the board," Creech said.
Cutch made it easy for Creech.
In late 2006, Graham took a risk of his own and urged Littlefield to jump McCutchen two levels in the minors to Double-A Altoona for the final month.
"Dave told me I had to be sure, that Cutch couldn't go up there and stall," Graham said. "And my answer was, 'It won't happen. He has a mental toughness that won't allow him to fail.' "
He batted .308 that month.
Cutch made it easy for Graham.
You know the rest. He's a three-time All-Star, the face of the franchise, and now, he joins Roberto Clemente, Willie Stargell, Barry Bonds, Dave Parker and Dick Groat in the Pirates' MVP pantheon.
More than that, though — and it's easy to envision this influenced voters — Cutch has become a winner in a place few thought that was still possible.
A winner so proud of that singular achievement that, with the 27th out of that 82nd victory, he placed his indelible stamp on the moment by looking up to the heavens and raising both arms.
Easy, right?
Should have seen him turn drop-dead serious when I brought
that
up.
"To me, this is about my team and the fans here in Pittsburgh," he said. "My individual numbers, if you look at them, were actually down from last year. This was about something we all did together. It's a collective award. We're all MVPs."
Dejan Kovacevic is a sports columnist for Trib Total Media. Reach him at
dkovacevic@tribweb.com
or via Twitter @Dejan_Kovacevic.


Read more: http://triblive.com/sports/dejankovacevic/dejancolumns/5045676-74/cutch-easy-mccutchen#ixzz2kiUeWWtG
Follow us: @triblive on Twitter | triblive on Facebook