By Dejan Kovacevic
http://triblive.com/sports/
Published:
Friday, Nov. 29, 2013, 1:30 a.m.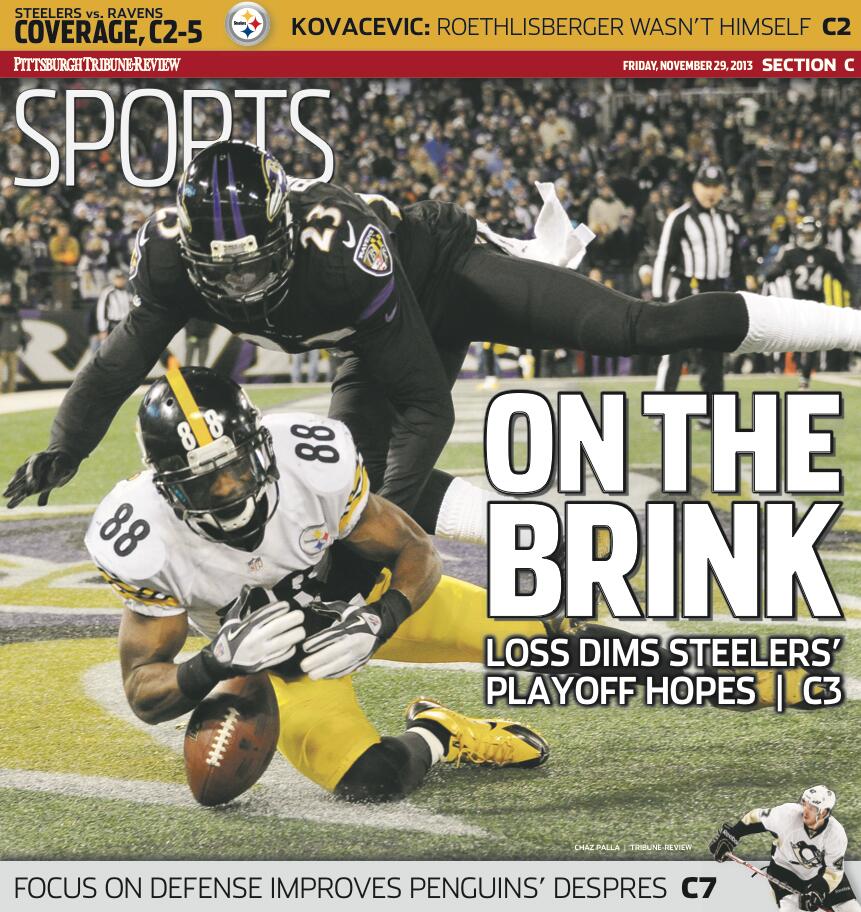 BALTIMORE — The
Steelers
had come so far, if you think about it. And I don't just mean the literal and figurative mileage from the flops in London and Oakland or even the hard math of the 0-4 start that, by every reasonable reckoning, should have ruined them right away.
I mean, they had come
so far
to fall so hard, so close.
You stayed up and saw the final score: Ravens 22, Steelers 20.
You saw how it ended, too, with Emmanuel Sanders dropping yet another ball on a two-point try that would have tied the score with a minute left.
It was awful.
It was deflating.
It was, as a stone-faced Sanders would say when surrounded by cameras and microphones at his stall, "Really tough to take right now."
It might even have been devastating for a team that could have uncannily overcome that start and climbed to .500 but instead fell to 5-7 and right back out of the AFC playoff picture.
And yet here's what's worse, if you ask me: All that transpired in that final minute and a half, all it took to cover that final yard and a half for the touchdown that set up the two-point try, all that went into the incompletion itself … was so sadly avoidable.
Let's rewind a bit: On that same final drive, Ben Roethlisberger fired a 20-yard bullet to Heath Miller for an apparent touchdown. But a video review showed Miller's knee touching before the ball crossed the plane.
"The ball will be spotted at the half-yard line," referee Clete Blakeman told the crowd of 71,005 at M&T Bank Stadium.
Todd Haley sent in the next play. And this is where stuff started getting sticky, whether through lousy luck or not.
Roethlisberger didn't like the call.
Sometimes we just have to guess at that sort of thing. Not this time. Roethlisberger said so in no uncertain terms when asked why he had gone to the sideline and had a brief conversation with Haley.
"I went over there to get us out of the play he was going to call," Roethlisberger said. "I knew what play was coming because we had talked on the sideline, so I just wanted to get over there and voice my opinion. I thought we had a better play down there than the one that we were going to do."
Roethlisberger wanted to run, so he called a handoff to Le'Veon Bell, who sprinted off left tackle and dived into the end zone. But before the ball crossed, Bell's helmet was knocked off by a headfirst hit from Courtney Upshaw. Bell and another Baltimore player, Lardarius Webb, were shaken up, and Bell had to leave with what Mike Tomlin would later describe as a concussion.
Still, the play itself worked. Well, at least until an arcane — and ridiculous — rule was invoked that a play is ruled dead at the point of the ballcarrier's helmet coming off.
The ball was back at the half-yard line.
The third time would be the charm when Roethlisberger found Jerricho Cotchery all alone just to the right edge of the line with 1:06 remaining.
All they needed now was the two-point try to tie.
One problem: That
was
the two-point play.
Whether it was the infamous two-point play Tomlin laughably explained a couple years ago that he'd been saving in his "hip pocket," we might never know. But it was the two-point play that was supposed to be used on this occasion, until it was needed for a touchdown.
So what to call for a two-point play now?
"Same exact play," was how Roethlisberger described what came next.
It really was. The same receivers went to the same spots, same cadence, same everything … except the result.
Sanders dropped it. It clanged off his hands and fell to the turf, no fewer than the fourth time that occurred in the game.
"I didn't make the play necessary for my team to win, and I take complete fault for it," Sanders said. "It's my fault was lost."
Well, maybe yes and maybe no. Roethlisberger's thinking was this: Antonio Brown would be double-covered. Cotchery would be covered because he had just scored and he has seven other touchdowns this season.
So Roethlisberger decided immediately — "The way that play's drawn up doesn't give you any time to look left or right," he said. "You have to get rid of the ball" — and chose Sanders, partly because of single coverage, partly because a reserve corner, Chykie Brown, had just stepped into the game for Webb.
"I knew they'd come after me," Brown would say.
Roethlisberger's pass wasn't great, and, indeed, he had more than his share of misfires on this night. Moreover, Sanders admitted he didn't see it until late because Brown was in his face.
But the play still needed to be made.
Or it needed to be a better play.
Or there has to be another option that comes in from the sideline when Plan B had just become Plan A.
Don't get me wrong. I'm not going to turn this into another Haley bashing, and I'm not going to pretend that there weren't other factors in this loss, not least of which was the defensive secondary again crumbling when it counted most. There was fault to go around.
But this offense still clearly lacks imagination, diversity and, yeah, let's bring it up for the millionth time, a healthy vibe between quarterback and offensive coordinator.
Roethlisberger didn't make those last two calls. Haley did. Cotchery pointed out, too, that they used the same play last week in Cleveland to score on short yardage.
Is that a playbook or a one-page manual?
There isn't more?
Or could the coordinator have worried that the quarterback would come running over to the sideline again if he didn't like hearing a different signal?
What's going on isn't good enough, and if you need more evidence, then listen to Roethlisberger when asked why the Steelers didn't produce much until going to the no-huddle in the fourth quarter.
"I don't know," he said. "Maybe with the no-huddle, going up-tempo, working with coach Haley during timeouts … I thought we did well tonight, but we were a little too late."
The Steelers called five plays out of the no-huddle in the first half.
After averaging 31 points in their previous four games, largely because of the no-huddle, they called five plays from it in the first half.
What did the quarterback think of that?
"At times, it's hard to do a lot of the things we want to do. But we did it late, and maybe we should have done it earlier. And maybe I should have voiced that a little more. I'll take that on myself, as well."
Feels like the ball is right back on that half-yard line again, huh?


Read more: http://triblive.com/sports/dejankovacevic/dejancolumns/5139596-74/roethlisberger-steelers-ball#ixzz2m2NfJLaY
Follow us: @triblive on Twitter | triblive on Facebook