By
Jamison Hensley
and
Scott Brown
http://espn.go.com/blog/pittsburgh-steelers
November 27, 2013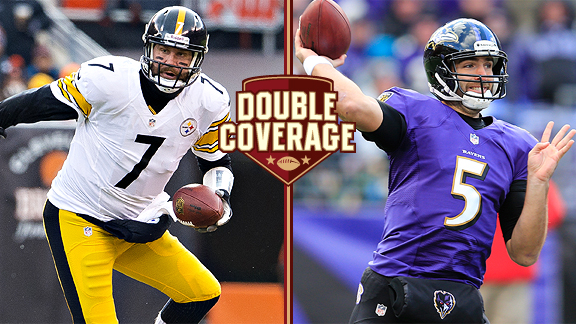 Getty Images
Ben Roethlisberger, left, and Joe Flacco are trying to keep their teams in the playoff hunt.
BALTIMORE -- A few weeks ago, it looked like the
Baltimore Ravens
and
Pittsburgh Steelers
would only be playing for bragging rights on Thanksgiving night. Not so anymore.
There are major playoff implications in the 39th meeting between the AFC North rivals who respect -- but certainly don't like -- each other. The winner of Thursday night's Ravens-Steelers game closes to within 1.5 games of the division-leading
Cincinnati Bengals
and becomes the front-runner for the final playoff spot in a log-jammed AFC wild-card race.
The Steelers (5-6) have rebounded from an 0-for-September start and won three straight, becoming the hottest team in the division. The Ravens (5-6) have won two of their past three and are looking to avoid being swept by Pittsburgh for the first time since 2008.
This is how ESPN.com Steelers team reporter Scott Brown and Ravens team reporter Jamison Hensley see this physical showdown unfolding:
Jamison Hensley
:
Ben Roethlisberger
has been on a tear in the Steelers' three-game winning streak with seven touchdowns and one interception. What began to click for Roethlisberger this month?
Scott Brown
: The Steelers have really put the game in Roethlisberger's hands the past couple of weeks with their use of the no-huddle offense, and I think it is safe to say that approach agrees with them. It's no secret how much Roethlisberger likes running the no-huddle offense, and I'm not sure why it took the Steelers this long to really take the reins off that attack.
Maybe there were concerns about using it extensively with a rookie running back and an offensive line that always seems to have moving parts because of injuries. Maybe Mike Tomlin is wary of exposing the offense too much and making it easier for opponents to devise ways to stop it. I will be very interested in seeing how much they use it against the Ravens in a loud stadium after a short week of practice.
While Roethlisberger is No. 8 in the NFL in passer rating (92.2), the Ravens'
Joe Flacco
is 29th (76.8). What has been his biggest problem this season?
Hensley
: Well, it's been interceptions, interceptions and ... did I happen to mention interceptions? Flacco has never been picked off more than 12 times in the regular season. This season, he has thrown 14, and it's not even December. Only four quarterbacks have been intercepted more than Flacco this season. And honestly, the increased turnovers shouldn't come as a surprise in a year when he hasn't had his top two targets (
Anquan Boldin
was traded and
Dennis Pitta
is on injured reserve-designated for return).
What Flacco has going for him Thursday night is he always plays better at home, and he comes up big late in games against the Steelers. He has two game-winning drives in Pittsburgh, and he tied the Steelers with a late drive last month. In his past six games against Pittsburgh, Flacco has thrown seven touchdowns and one interception.
But a big reason for Flacco's increased turnovers this season is the increased pressure getting to him. What is the state of the Steelers' pass rush?
Brown
: The pass rush has gotten better, but it's still not where it was when
James Harrison
was in peak form and
LaMarr Woodley
was able to actually stay on the field instead of dealing with nagging injuries. Woodley has missed the past two games with a calf issue, but his absence has allowed
Jason Worilds
to really emerge.
Worilds is finally showing why the Steelers drafted him in the second round in 2010, passing on local product
Sean Lee
, among others. Worilds has been extremely disruptive the past two games coming off the left edge, and he is playing so well, I'm wondering if he is the Steelers' best long-term option at left outside linebacker.
The Ravens' pass rush has been a strength of the team. Baltimore is tied for the NFL lead with 37 sacks. Will the Ravens be able to get to Roethlisberger?
Hensley
: History says yes. The Ravens have recorded at least two sacks in 19 straight games, dating back to the 2012 season. It ties the
Philadelphia Eagles
(2003-2004) for the NFL's longest such streak since 1990. Most of the attention is on the pressure the Ravens bring from the edges with
Elvis Dumervil
(9.5 sacks) and
Terrell Suggs
(nine sacks). But defensive tackle
Arthur Jones
(four sacks) and blitzing inside linebacker
Daryl Smith
(3.5 sacks) collapse the middle of the pocket.
That being said, sacks aren't the primary goal with Roethlisberger. The Ravens want to contain him in the pocket as much as possible. They know how dangerous he is when he escapes and finds an open receiver downfield.
Roethlisberger isn't the only concern for the Ravens' defense. One reason why the Ravens lost in Pittsburgh was their inability to stop rookie running back
Le'Veon Bell
, who rushed for a season-high 93 yards that day. Is he one of the X factors for the rematch?
Brown
: I actually forgot Bell came that close to a 100-yard rushing game the last time the Steelers and Ravens played. Bell is having a strange season in that the rookie is averaging just 3.2 yards per carry, yet he has completely stabilized the running game and given it hope for the future. He looks like an NFL back, and his skills allow him to pick up yards in the passing game when running lanes are clogged. He can also grind out the tough yards, and he has shown enough flashes as a runner that I think it's only a matter of time before he becomes a really good back.
Mike Tomlin talked about the success
Ray Rice
has had in recent weeks, and since he takes lavishing praise on the opponent to another level, I figured you would provide more of a straight answer. Is Rice hitting his stride or is he still struggling and looking like a back who might have lost his burst?
Hensley
: It's easy to sum up the past two weeks for Rice. When he played against the NFL's worst run defense (
Chicago Bears
), he ran for 131 yards. When he went against the best run defense (
New York Jets
), he was held to 30 yards. Rice has certainly been a more determined runner the past couple of weeks. He just hasn't been the same playmaker this season.
But this isn't the same Steelers run defense from previous seasons, either. Pittsburgh ranks 23rd in the league in stopping the run. Six running backs have gained at least 70 yards against the Steelers this season. Could Rice be the next one to do this?