By
Scott Brown
and
Coley Harvey
http://espn.go.com/blog/pittsburgh-steelers
December 13, 2013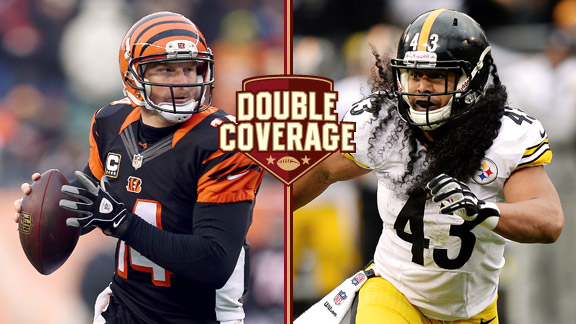 Getty Images
Andy Dalton and the Bengals continue their AFC North title push versus Troy Polamalu's Steelers.
If the script in the AFC North hasn't been flipped, it has at least undergone a major modification. The
Cincinnati Bengals
are on their way to a second straight AFC North title -- they shared it last season with the Ravens -- while the
Pittsburgh Steelers
are all but assured of missing the playoffs in back-to-back seasons for the first time in almost 15 years.
Steelers coach Mike Tomlin had made it clear he is playing to win the final three games, and not using them as a time to evaluate some of the team's younger players. The Bengals, meanwhile, will try to solidfy their hold on first place in the division and improve their playoff position starting Sunday night at Heinz Field.
ESPN.com NFL reporters Coley Harvey (Bengals) and Scott Brown (Steelers) take a closer look at the second meeting this season between the AFC North rivals.
Brown:
Coley,
James Harrison
took some criticism for not accepting a pay cut to stay with the Steelers and eventually signing with the Bengals. It sure looks like he made the right call given the teams' respective standing. I'm going to go big picture on you with my first question. Has the balance of power in the AFC North shifted, or do the Bengals need to make some noise in the playoffs before we can say that they have arrived?
Harvey:
I believe the Bengals do have to make some noise in the postseason before we can crown them kings of the division and say they have arrived. After all, they have been to the postseason the past two seasons and have not advanced out of the first round. Eventually, they have to win a game or two in January to have "arrival" status. Having said all of that, though, they certainly are making strides. That we're talking about Cincinnati and the postseason even after all the hype that came in the preseason is a good sign. At 9-4, and with a young quarterback who has shown flashes of goodness, an oftentimes impenetrable defense, and a rookie playmaker in running back
Giovani Bernard
who has been the delight of fantasy owners, the Bengals certainly do have promise for taking this division by storm in the future.
The Week 2 win against the Steelers was one game that helped bolster the Bengals' confidence early in the season. It's safe to say, though, that the team Pittsburgh has fielded since then has changed. For starters, running back
Le'Veon Bell
didn't play in that game. What has he meant to the Steelers the past nine games?
Brown:
I have been really impressed with Bell, who has transformed the moribund ground game the Bengals saw in Week 2. Bell is averaging only 3.4 yards per carry, but he has shown serious flashes as a runner while also helping in the passing game as a receiver and blocker whom quarterback
Ben Roethlisberger
trusts to pick up blitzing linebackers. I'd imagine, watching from afar, that Bell is in a similar position to fellow rookie Bernard. He is a young player who already has established himself as an NFL back, and will only get better with experience.
The one thing Bell has yet to do is record a 100-yard rushing game, and I'm guessing this isn't the week Steelers fans and fantasy football owners should expect Bell to go over 100. It seems the Bengals have been playing well on defense despite the loss of defensive tackle
Geno Atkins
and cornerback
Leon Hall
. Coley, my next question is how much is Harrison playing, and how are the Bengals using him?
Harvey:
Oh, Harrison has been playing. And -- surprise to no one -- he has been playing well. Of course, I know you ask because just after the first meeting, there were very real concerns that he wasn't being adapted into the Bengals' defensive system. After all, Harrison played only 14 snaps against his old team in Week 2, and played even fewer (five) the next week against the
Green Bay Packers
.
A big reason for his lack of snaps had to do with the opponents. In Week 2 the Steelers were trying to sling it, because they lacked a run game and had a battered offensive line. The Packers had a slew of playmakers at receiver and tight end, too, who needed to be covered by more athletic linebackers and safeties. Since then, Harrison has been an invaluable run-stopper, and he has even made a few key plays in passing situations. He had a big sack on Buffalo's
Thad Lewis
on a goal-line stand in Week 6. He also had a fumble recovery and an interception against Cleveland last month that helped turn the momentum in what ended as a blowout win.
Sticking with Harrison, what do you think the reaction from the Heinz Field faithful will be when he takes the field Sunday? I heard former Steelers receiver
Mike Wallace
, now with Miami, was booed last week ...
Brown:
I'd be shocked if Harrison gets the same kind of reception as Wallace did last Sunday. There might be a smattering of boos, but I think Harrison will largely be cheered by Steelers fans, as he should. We're talking about a self-made player who was cut three times by the Steelers before finally sticking with the team.
Harrison gradually transformed himself from undrafted afterthought to one of the most feared players in the NFL. He was the soul of the 2008 team that won the Super Bowl, the best defensive player on the NFL's best defense that season. And who will ever forget his 100-yard interception return for a touchdown in the Super Bowl? It is on a short list of greatest plays in Super Bowl history, and it is also part of a body of work that should have Steelers fans giving Harrison his due Sunday night. Those who boo him are simply ignorant.
Coley, I don't have any doubt the Steelers will play hard Sunday night, even if their odds of making the playoffs are longer than the Ohio River. But I'm not sure it will be enough given the problems they have with their defense, which has been uncharacteristically vulnerable to big plays. Do you see receiver
A.J. Green
having a big game, and which
Andy Dalton
will we see at Heinz Field?
Harvey:
I agree with you on Harrison. When it comes to Green, I'm honestly torn as to which version of him we might end up seeing. Three of the four times he and Steelers cornerback
Ike Taylor
have been matched up, Taylor has arguably been the winner. Green caught one pass -- on just two targets, mind you -- in his first game against Pittsburgh in 2011. It was a 36-yard touchdown. In the past two Bengals-Steelers games, including the Week 2 meeting this season, Green combined for seven catches for just 49 yards. He has been targeted 19 times in those two games. Taylor has simply had his number. It's similar to the way cornerback
Joe Haden
has mostly owned Green whenever the Browns and Bengals play. So I'd say don't expect a big night for Green, but to look for other playmakers, including running backs Bernard and
BenJarvus Green-Ellis
, to have big games.
As for Dalton, prime-time games on national TV mostly haven't gone his way. Games against the Steelers haven't, either. Somehow, though, he was able to settle in during the Monday night game in Week 2, and led the Bengals to a key victory. With a few offensive line tweaks and Dalton's confidence seeming to rise, there are reasons to believe we'll see "Good Andy" show up Sunday night.
Scott, final question. How difficult do you imagine it has been for quarterback Ben Roethlisberger to adjust to this rough season?
Brown:
Put it this way, Coley: When he was asked this week if he had ever experienced a losing season in football on any level, he couldn't recall any. So those are anything but hollow words when Roethlisberger says he is going to fight until the end, even with the Steelers seemingly out of playoff contention.
I have to think this has been as bittersweet a season as Roethlisberger has experienced in the NFL. There has to be some personal satisfaction in how he has played behind an offensive line that is continually scrambled by injuries, and the fact that he has played every snap this season. But with the player who won two Super Bowls before his 28th birthday and is what coach Mike Tomlin has called a "sick competitor," the bottom line easily trumps all. The Steelers have simply not done enough to win consistently this season, and as well as Roethlisberger has played, that reality is something he will take personally.