By Chris Bradford
December 16, 2013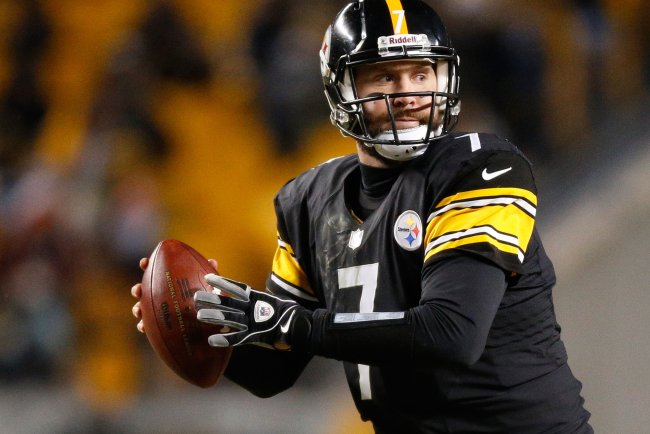 A 21-point first quarter, their first in nine years, paced the Steelers to a 33-20 upset win that few would have predicted over AFC North-leading Cincinnati at Heinz Field. Their playoff hopes clinging by a thread, the Steelers avoided playoff elimination for another week with an inspired effort in all three phases. Antoino Brown scored a pair of touchdowns, including a 67-yard punt return, and Shaun Suisham kicked three field goals for Pittsburgh, which won its first game – in four tries – in prime-time this season.
"We have yet to play a perfect game," coach Mike Tomlin said. "Tonight will be included in that. But, obviously, we did enough to win and had some splash plays."
TURNING POINT
The Bengals were already trailing 14-0 thanks in part to Kevin Huber's fumble on his first punt attempt. Huber's second punt was even less successful and far more painful for Cincinnati. On Antonio Brown's 67-yard punt return for a touchdown, Steelers special teamer Terence Garvin threw a devastating block that knocked Huber out of the game with a "dental" injury that was later diagnosed as a fractured jaw. For a Bengals team that was looking to establish itself as the new tough guy in the AFC North, it was a figurative and literal knockout. "I just saw a white shirt," said Garvin, who added he was aiming for Huber's chest. "It was just the first color I saw and I tried to make a block to spring (Brown). ... It was a pretty good hit, I felt like I got all of him."
PLAYERS OF THE GAME
Danny Smith's special teams unit has largely flown under the radar this season. On Sunday, they were the difference in the Steelers' sixth victory. Two of the Steelers' first three touchdowns were the direct result of special teams play. "I thought we rode the wave that the special teams provided there early on and in the first half of the game," said coach Mike Tomlin.
TAKEAWAYS
* With a chance to lock up the No. 2 seed in the AFC, the stage was set for the Bengals to knock off their divisional rival. Well, it didn't quite work out that way for Cincinnati. Much more than the Steelers winning the game, the Bengals lost it with a series of mental errors on special teams in the first half, including Kevin Huber's drop of a punt, a long kick return negated by an inadvertent fair catch call and a 67-yard punt return for a touchdown. "We want to be rulers of the AFC North but if we can help out in any other way, without us being in it, I suppose that's a positive," said LG Ramon Foster.
* From the better late than never department, the offensive line played one of its best games of the season. Not only did they allow Le'Veon Bell to enjoy one of his finest games, Ben Roethlisberger was kept relatively clean. On Roethlisberger's first-quarter touchdown pass to Antonio Brown, the Steelers' quarterback had all the room and space he could want. Despite the plethora of injuries, including minor ones to Marcus Gilbert and Kelvin Beachum on Sunday, the resiliency this group has shown is remarkable. "That's what we're made of, right there," said Foster. "We just need more of it."
* True to his word, Mike Tomlin said the Steelers' goal was to win the game. They did.
Anyone hoping to see more of Shamarko Thomas or Markus Wheaton in what amounted to a meaningless game, will surely be disappointed. Not that the rookies didn't play but none were significant factors. LaMarr Woodley's calf injury – yes, another -- gave Jarvis Jones a chance to play right outside linebacker. It would not be surprising if that's the last we've seen of Woodley this season.
NEXT
Sunday: at Green Bay Packers, 4:25 p.m. (CBS)
Whether Aaron Rodgers makes his return from a broken collarbone will be of little consolation for the likely non-playoff-bound Steelers. Despite Sunday's dramatic comeback win over the Cowboys, it might not be of any help to the Packers either. Regardless, the Steelers have won three of their last four against Green Bay, their lone loss coming in Super Bowl XLV in Dallas. All-time the Steelers are 14-22 against the Packers with a 7-12 mark at venerable Lambeau Field. "We're playing a team that's fighting for their playoffs lives in Green Bay that'll probably have one of the top quarterbacks in the league as well," said FS Ryan Clark. "It'll be a big challenge for us." Among NFC teams, the Steelers have more losses against only Philadelphia (47), the New York Giants (46), Washington (43) and Arizona (23). And in case you're wondering, the early forecast for next week's game calls for a high of 19 at the "Frozen Tundra."
BY THE NUMBERS
5: Games that Ben Roethlisberger had gone without throwing an interception. Cincinnati's Adam Jones picked him off early in the third quarter on a jump ball to Emmanuel Sanders at the Steelers' 2-yard line.
QUOTABLE
"We can't replay. The NFL won't give us an opportunity to go back and play those games over. You don't get the Tennessee Titans game back. You don't get the Oakland Raiders game back. Games like you felt you should have won going in and could have made plays during to win the game." Ryan Clark, FS, on what ifs
Photo: Getty Images