By Dejan Kovacevic
http://triblive.com/sports/
Published:
Monday, Dec. 16, 2013, 12:36 a.m.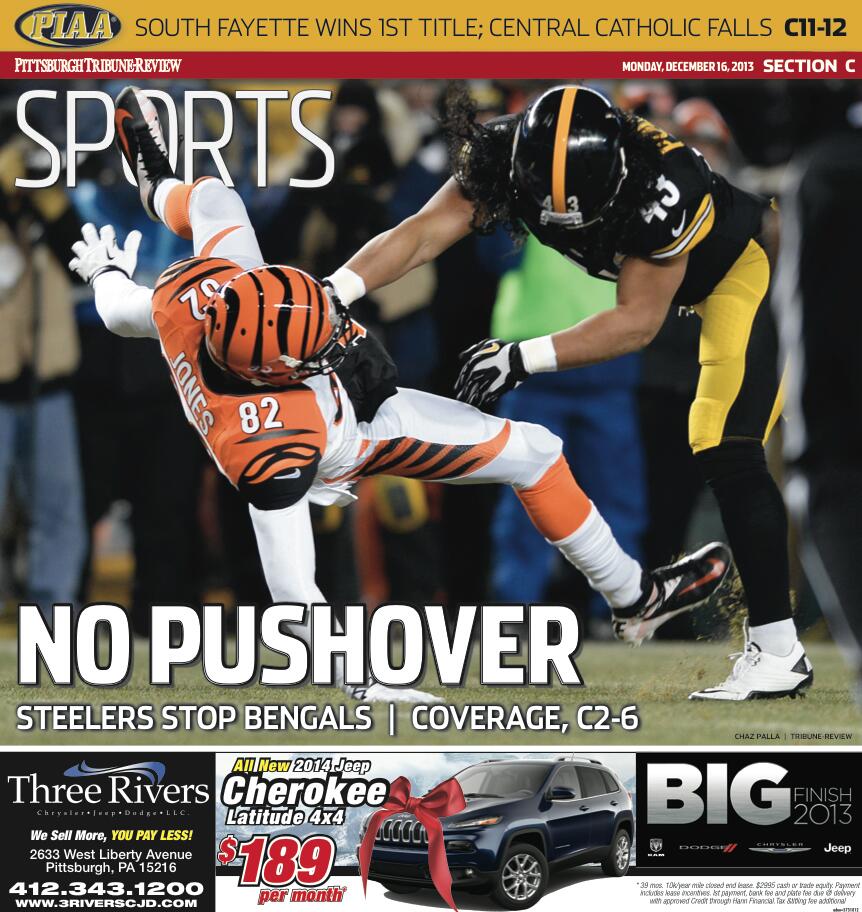 It would be so convenient to
still
complain, wouldn't it?
It would be so easy to summarize all that happened on this icy Sunday night at Heinz Field by asking one crushingly obvious question.
"Where has this been?"
That was Ramon Foster repeating my question back in the immediate aftermath of the
Steelers
' 30-20 body slam of the first-place Bengals, and he continued: "We did want this to happen earlier. We did want to be more consistent. But man … you can't do anything about the past. We went out and played this game to the best of our ability."
Fair enough, if you ask me.
Really, what would be the point of slamming the forehead off the wall for yet another Sunday?
This
was
the Steelers at their best, as Foster stated, in pretty much all facets. And rather than bemoan that it took until Week 15, or that they could have done this at any point between Latrobe and London, I'll choose to savor what was there.
Yeah, I could poke fun at Cincinnati for blowing a chance to move into the AFC's No. 2 seed by, you know, being the Bengals.
I'll instead applaud Mike Tomlin, his staff and the team leaders for gearing up for a game that meant next to nothing. All anyone needed to see to know that the Steelers meant business was Ben Roethlisberger's rousing run through his offensive mates for pregame introductions. It's as wound up as I've observed him in that setting.
"Yeah, I've been saying for a bunch of weeks now there's going to be no quit, from me or from anybody," Roethlisberger answered my question on that count after backing up his energy with a 20-of-25, 191-yard, one-touchdown, first-pick-in-five-games effort. "I thought tonight was a good example of that. We fought from start to finish. I'm proud of that."
I could rib LaMarr Woodley for his latest in a litany of soft-tissue injuries, this a recurrence of his nagging calf that sent him to the familiar sideline early.
I'll instead cite Ike Taylor for playing through the visible pain of a nagging a rib injury — can't count how many times he was grabbing for air after a play — and all he did was get the best of A.J. Green yet again. He wasn't alone. Marcus Gilbert sprained his ankle, and Kelvin Beachum turned a knee, both immediately returning to the offensive line.
"I'm OK, I'm OK," Taylor insisted. "That's a good receiver. I just wanted to do my job."
I could express worry that Jarvis Jones did so little in Woodley's absence to look like a first-rounder, much less that "special" talent the Steelers still await.
I'll instead remind of second-rounder Le'Veon Bell brutally leveling Cincinnati end Michael Johnson with a stiff arm that paved a 6-yard run.
Who
wouldn't
have liked that one?
"Yeah, it's a good feeling for a running back," Bell finally fessed up after dodging two other questions on the topic. "You want to do things like that to give your team a boost."
I could point to the Bengals' horrific early punting, with Kevin Huber muffing his first for a near safety and Antonio Brown high-stepping the next one 67 yards for a score.
I'll instead wonder aloud if Brown isn't the Steelers' most singularly explosive offensive player since … who? Prime-time Hines Ward? Early Antwaan Randle El?
Good luck with that.
"All that matters is to me is that we got it done," Brown said. "We got it done in all three phases, too."
I could pile on the beleaguered defense, which now — after the Steelers have topped 26 points in six consecutive weeks — is more exposed than ever as the primary culprit for this 6-8 record. I could even strip away some credit for shutting down Cincinnati by noting that the Bengals insanely neglected to go deep against a defense badly susceptible to big plays.
I'll instead say good job, even with a late fade.
"Maybe to the outside world, it looked like we had nothing to compete for," Ryan Clark said. "We did. We showed that. We wanted to win."
And I could, of course, stray from football and talk about all that yellow that was showing in the seats, where 45,873 showed up in a 65,500-seat stadium. It was the smallest Steeler crowd in Heinz Field's history, and it's sure to be a buzz topic if I know my city. We love to agonize over not showing up after we don't show up.
I'll instead point to the frigid weather, the 14 weeks that preceded this and, above all, that it was the Steelers who let their fans down this winter, not the other way around.
Next year, try unwrapping some of this a lot sooner than Christmastime.
Dejan Kovacevic is a staff writer for Trib Total Media. Reach him at
dkovacevic@tribweb.com
or via Twitter @Dejan_Kovacevic.


Read more: http://triblive.com/sports/dejankovacevic/dejancolumns/5255407-74/steelers-instead-bengals#ixzz2ndiWuR8T
Follow us: @triblive on Twitter | triblive on Facebook
Related:
http://blog.triblive.com/dejan-kovacevic/2013/12/16/morning-java-why-not-savor-it/