By Dejan Kovacevic
http://triblive.com/sports/
Published:
Sunday, Dec. 8, 2013, 10:24 p.m.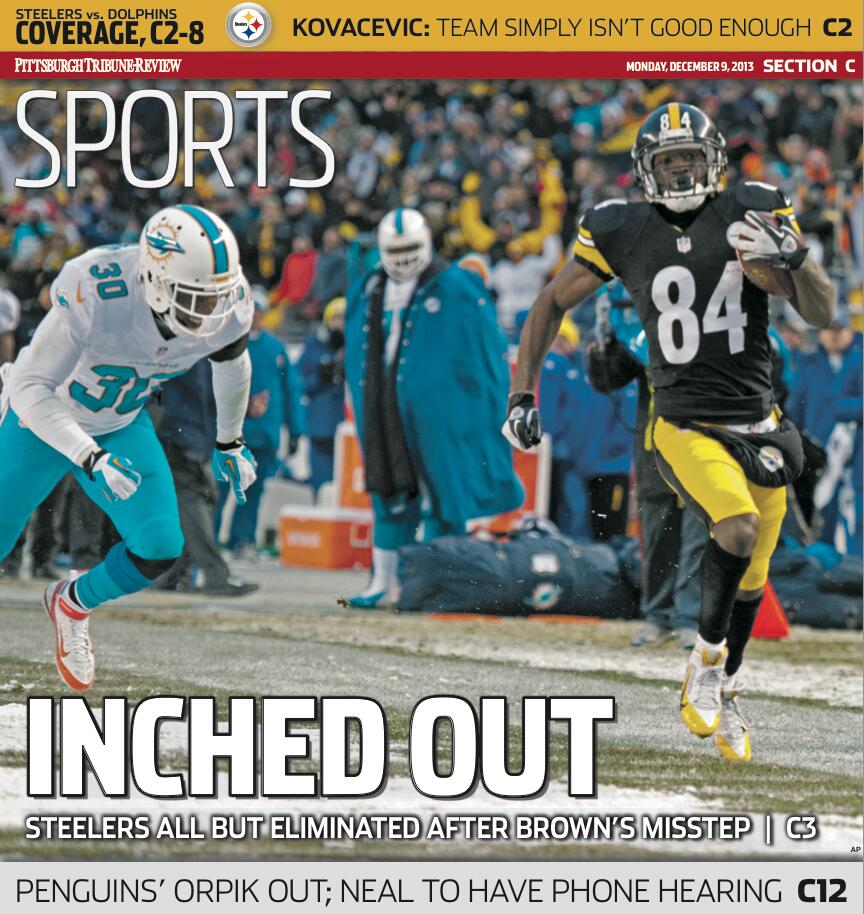 There's no longer any sensible need to lash the 2013
Steelers
with some savage litany of critical adjectives.
Not now. They're done as done gets.
And if it's actual analysis anyone would still seek, try the first two words out of Mike Tomlin's mouth at his news conference following the 34-28 loss Sunday to the Dolphins at Heinz Field:
"Not enough."
That's it, man. Loud and clear. There's nothing else to hear because it applies across the board.
For the Steelers as a whole, for the franchise that within the past decade won two Super Bowls and constructed a second coming of the iconic 1970s, they're now 5-8 to clinch a second straight nonwinning season and are all but formally out of the AFC playoff picture.
That's not good enough.
And for these Steelers on this day, playing with peak motivation against a team from South Beach in a swirling snowstorm and 15-degree chill, a setting for which the traditional Steelers would lick their frozen lips and salivate, they got manhandled. Thrown on their backs. Left in the dust. You saw it.
That's not tough enough.
Cortez Allen, the corner expected to make Keenan Lewis look expendable, allowed a crushing 40-yard catch by Miami's terrific tight end, Charles Clay, then let Clay slip from his grasp
twice
on the decisive touchdown.
"I have to make more plays," Allen said in a hushed tone at his stall.
That's a matter of not enough talent, largely because of a long lull in quality of drafting. Allen's hardly alone.
Troy Polamalu scored on a 19-yard interception capped by a flying leap that reminded of the Troy of old. But at the end of the day, it was more of the old Troy as he shared in Allen's embarrassment on the decisive TD — "I went for the ball," Polamalu said — and was blown up on Daniel Thomas' 55-yard run, one of a bazillion such plays against the Steelers this season.
That's not good enough production, regardless of the history of Polamalu or any other past-his-prime player.
Emmanuel Sanders had a ball thrown his way in a clutch situation in the fourth quarter, the kind Antonio Brown and Jerricho Cotchery had been pulling down all day. You know how that turned out. Same as last week. Same as ever.
That's actually
plenty
enough of Sanders. Let some other team overpay.
LaMarr Woodley lost his spot at left outside linebacker in being shifted to the right for Jason Worilds, already humbling for a $61.5 million player, then turned in a total of three tackles and zero QB hits from the right.
"I think it worked out pretty good," Woodley said, oblivious as ever to his own shortcomings.
Not enough.
Lawrence Timmons, the anchor of the Steelers' run defense, watched the Dolphins run for 181 yards while recording five tackles and later lamented, "We left a lot of plays out there."
Five tackles at inside linebacker!
Not enough.
And it isn't just the athletes. It never is when things go this far awry.
Tomlin, who couldn't manage a clock with an apprenticeship at a watch repair shop, called a timeout with 2:33 remaining. The Steelers were down by three and had the ball at their 10-yard line. Ben Roethlisberger threw three incompletions, and Tomlin decided to go for it on fourth-and-10.
I don't fault him on that one. As he explained, the defense "hadn't done a great job" with second-half stops.
But calling timeout when the clock already stopped for the incompletion?
When most of the field lay ahead?
When any intelligently run offense calls more than three plays going into that critical series?
When the same offense didn't have a clue how to conduct itself near the goal line the previous week in Baltimore?
Come on.
"We didn't have enough communication to get the type of call we were comfortable with," Tomlin explained.
That's not smart enough.
And this team isn't, in any capacity, good enough.
Not on offense, defense or the 1-yard-punt special teams.
Not in player selection, instruction or discipline.
Not at the bottom, and certainly not where the buck stops.
Dejan Kovacevic is a staff writer for Trib Total Media. Reach him at
dkovacevic@tribweb.com
or via Twitter @Dejan_Kovacevic.


Read more: http://triblive.com/sports/dejankovacevic/dejancolumns/5215161-74/steelers-kovacevic-dejan#ixzz2myibBJ5j
Follow us: @triblive on Twitter | triblive on Facebook