By Dejan Kovacevic
http://triblive.com/sports/
Published:
Sunday, Dec. 29, 2013, 10:45 p.m.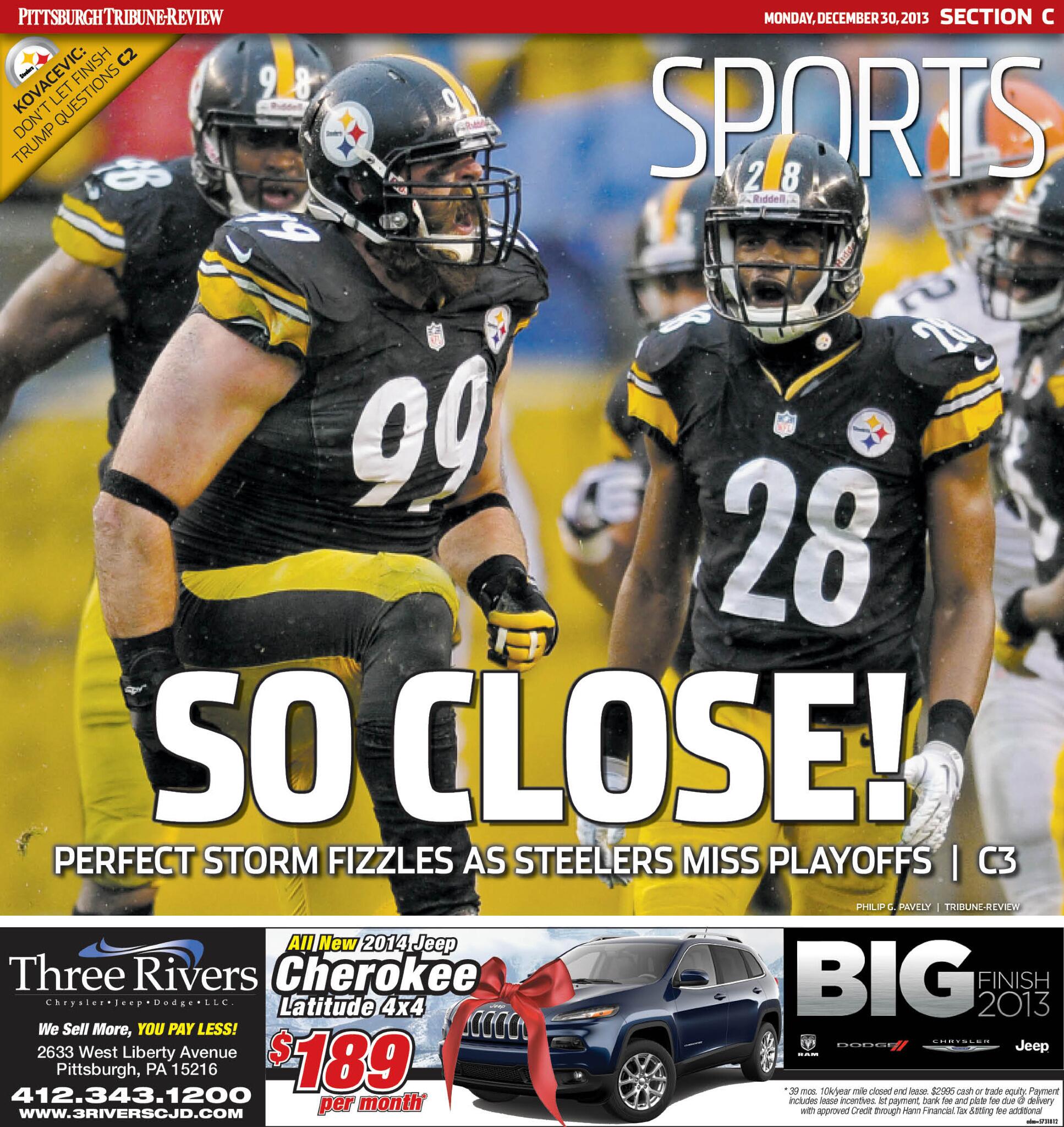 The kick went wide.
The fumble return for a touchdown was waved off.
Of course
it was waved off.
All that luck the
Steelers
had been hoarding for two weeks — the cumulative equivalent of a five-leaf clover, a rabbit's entire leg and a ball ricocheting right into Franco's hands — all of it disintegrated blow by devastating blow on their TV sets Sunday night.
Chargers 27, Chiefs 24.
And from wherever the Steelers watched that outcome quash what would have been an incredible playoff berth, a few reacted on social media.
Some of it was sadness. Injured Larry Foote tweeted: "Feel like I just got reinjured. My heart is broken."
Some was anger. Marcus Gilbert, in an apparent lapse of reason, accused Kansas City kicker Ryan Succop — he of the 41-yard miss that would have sent the Steelers to the playoffs — of cheating: "Well? Succop? What was it? Point shaving? Tell me why?"
Yikes.
But the most poignant came from Le'Veon Bell right after the Succop shank: "SMH. Knew it, tho. Simply knew it."
That's "SMH" as in shake my head. And that's "knew it" as in … well, didn't you, too?
Surreal as this Sunday felt well beyond the Steelers' 20-7 bouncing of the Cleveland Browns, let's get real here for a moment.
Two weeks ago, the Steelers had a 1 percent mathematical chance at the playoffs.
Last week, they needed four games to go their way. All did.
And Sunday, they needed to take care of business
and
for the Cincinnati Bengals' Andy Dalton to overcome four picks to beat the Baltimore Ravens
and
for the New York Jets' Geno Smith and his 65.3 QB rating to dance around the Miami Dolphins …
and
they needed the Kansas City Chiefs in the nightcap to win after Andy Reid decided to rest several starters.
Almost but not quite.
The irrational will blame Succop. That's just weird.
Others will blame Reid. As if the Steelers haven't employed exactly the same practice in recent years.
But most, I suspect, will blame the Steelers for going 0-4, then 2-6, for blowing a game at the Minnesota Vikings' 6-yard line in London, for conceding a 93-yard TD run to Terrelle Pryor, for losing to a Miami team in bitter cold and snow.
"The Dolphins, man," Ramon Foster was lamenting after the Steelers' victory Sunday. "We lost to the
Dolphins
."
They did, but they also flipped 2-6 into 6-2.
And that's why I won't take the blame route. Not now.
The convenient stance to take is that, if only they had beaten one lesser opponent, they would have been OK. Well, no kidding.
But doesn't what followed count for anything, including toward the future?
Sorry, I'm giving credit where due: This wasn't the best edition of the Steelers, to be kind, but you had better believe it was among the most resilient.
"I'm really proud of what's happened," Ben Roethlisberger said after the victory Sunday. "We had one of the worst records in football, but guys continued to fight, never quit."
No one led that charge like Roethlisberger. Not on the field, where he didn't miss a snap. Certainly not off it.
But beyond the intangibles, beyond the stubbornly solid foundation built and now possibly rebuilt by Mike Tomlin, there were real reasons to feel that 6-2 surge portends well for 2014 and beyond.
That's especially true on offense, where the scoring average was 28.2 over the final nine games. Antonio Brown is 25, he's signed for the long term, and he's brilliant. Bell grew by bounds each week. The younger fixtures on the O-line stepped up eventually. And hey, give credit — even if through gritted teeth — to Todd Haley for some of that.
"A lot of things got better for us as a unit," Brown said.
The defense is old and flawed, and it's imperative to address that without sentiment. But I also saw Cam Heyward grow up, Cortez Allen settle down and Jarvis Jones blossom a bit in Week 17 with a game-high nine tackles.
Remember all the angst after London about needing years and years to rebuild?
Not getting that now.
Oh, and for fun, I'll remind that the NFL's best playoff teams tend to have peaked late.
"Imagine that," Ike Taylor said after the game. "Imagine us and the Bengals with how we're going right now. There would be hell to pay, man."
Alas, the payment on this season finally came due.


Read more: http://triblive.com/sports/dejankovacevic/dejancolumns/5327187-74/steelers-kovacevic-dejan#ixzz2oxYzfim2
Follow us: @triblive on Twitter | triblive on Facebook