By
Scott Brown
http://espn.go.com/blog/pittsburgh-steelers
October 21, 2014
Brett Keisel returns an interception late in the second-half of last night's 30-23 win over the Texans. (AP/Gene Puskar)
PITTSBURGH -- The
Pittsburgh Steelers
made a statement Monday night, pulling their season from the brink shortly after boos had rained down on them in their own stadium.
Defensive end
Cameron Heyward
made an even bigger statement after the Steelers overcame an early 13-0 deficit and held off the
Houston Texans
30-23
at Heinz Field.
Heyward, talking about the play of fellow defensive end
Brett Keisel
, said, "He turned back time. He was the best [No.] 99 out there."
Such a statement would seem ridiculous on the surface.
Keisel, who turned 36 last month, did not even re-sign with the Steelers until late August because of lukewarm interest from the organization. The other No. 99 in the nationally televised game was Texans defensive end
J.J. Watt
.
Watt is only the best defensive player on the planet and owns a list of NFL accomplishments that is longer than Keisel's beard.
Watt, as the Steelers could attest after improving to 4-3, can be contained only to a certain degree. The Steelers largely did a good job against the 6-foot-5, 289-pounder, and he still finished with three tackles, a sack, two quarterback hurries and a fumble recovery.
[+] Enlarge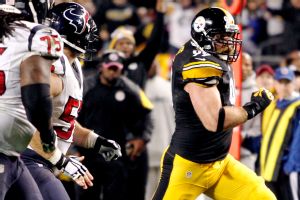 Justin K. Aller/Getty ImagesBrett Keisel's interception led to the third Steelers touchdown during the final two minutes of the first half.
His stat line easily trumped the one turned in by Keisel.
His impact on the game, however, did not.
Keisel's fingerprints were all over one of the more bizarre stretches in the history of Heinz Field, one in which the Steelers needed just five plays and less than two minutes of possession to put together three touchdown drives.
That sequence changed everything -- maybe even the Steelers' season.
It seemed so out of place coming from a team that managed just two offensive touchdowns over its previous two games, against the
Jacksonville Jaguars
and
Cleveland Browns
, that you half expected to see cows flying over Heinz Field at halftime.
Less improbable, though maybe only slightly so given how much the NFL is a young man's game, was Keisel making more of an impact on Monday night than Watt.
Keisel hurried Texans quarterback
Ryan Fitzpatrick
into a third-down incompletion that forced a punt with the Steelers trailing 13-3 and just less than two minutes left in the second quarter. Two plays later,
Ben Roethlisberger
threw a 35-yard touchdown pass to rookie wide receiver
Martavis Bryant
.
After a takeaway by the Steelers defense led to another quick touchdown, Keisel turned in one of the plays of the game. With just more than a minute left in the first half, Keisel redirected a Fitzpatrick pass when the Texans weren't content to run out the clock and go into the locker room trailing by four points. After Fitzpatrick's pass clanked off the face mask of linebacker
Lawrence Timmons
, it landed in one of Keisel's ample mitts.
He started rumbling toward the end zone and made it to the 8-yard line. Two plays later, Roethlisberger found
Le'Veon Bell
for a 2-yard touchdown pass with 14 seconds to spare in the second quarter.
The Texans never recovered from that barrage of points.
After the Steelers survived a late rally and an onside kick attempt that almost went in the Texans' favor, Keisel was asked if the three-minute stretch at the end of the first half, which started with a field goal at the 3:08 mark and resulted in 24 unanswered points, saved the season. "I don't know," he said, "It's still early [in the season] -- well, about halfway."
It is late enough for Keisel to know the Steelers have to start stringing together victories.
That is why he didn't plan on allowing himself or his teammates much time to celebrate a win the Steelers had to have on Monday night.
"We can't just win and lose one, win and lose one," Keisel said. "We've got to be able to have the same urgency after a win as we have after a loss."