October 20, 2014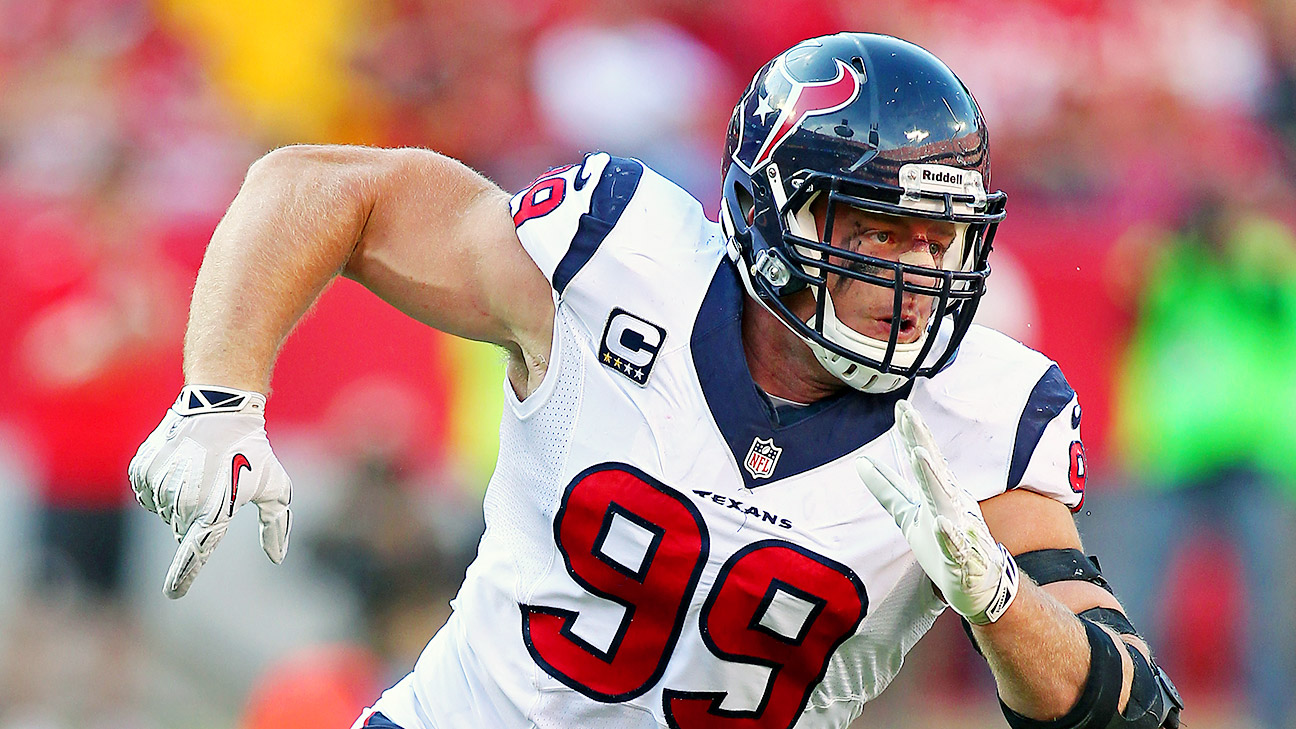 PITTSBURGH
— It was late February last year and the Texans' disappointing season was long over when an 18-second Internet video clip of J.J. Watt went viral.
The grainy images, the Zapruder film of hockey, showed Watt, a 6-foot-6, 290-pound behemoth, skating rather effortlessly across a dimly lit, empty rink, kicking a puck up to his skates before ripping a slap shot.
No one should have been surprised.
Just a few months earlier, another video revealed Watt's exploits in a batting cage in Houston, crushing a home run deep into the left-field seats at Minute Maid Park.
Again, no one should have been surprised. Antonio Brown certainly wasn't
Seven years ago, the Steelers' star wide receiver and Watt were freshman teammates at Central Michigan. Brown didn't know Watt as the dominating defensive end — or Verizon pitchman — that he is today. In 2007, Watt was … a tight end?
"He was actually pretty good," Brown said. "Always competitive, thought he didn't get enough balls. He was great."
In his first four seasons in the NFL, Watt has been great there too.
Steelers left tackle Kelvin Beachum calls Watt "a freak." Running back Le'Veon Bell, who played against Watt after he transferred to Wisconsin, calls him "a one-man wrecking crew." Cornerback Brice McCain, a former teammate of Watt's in Houston, says "J.J. plays at a different level than almost everybody else."
Watt is certainly doing that this season, making a very compelling argument for league MVP, an award no defensive player has won in nearly three decades. He leads the Texans with four sacks, an NFL best 20 quarterback hits, six passes defended and an interception and fumble return for touchdowns. His three total touchdowns, in just six games, are the most by a D-linemen since William "The Refrigerator" Perry in 1985. According to Elias Sports Bureau, Watt is the just fourth player in NFL history and first in more than 50 years to have a TD reception, interception return and fumble recovery for a TD.
As much athleticism as he showed in those videos, though, Watt's work ethic, speed and leadership are what set him apart, according to Brown.
"He was a leader from the first day we got on campus as freshmen," Brown said. "He was leading all the rookies, getting us to the field to get used to the stadium, running 110s. Always rallying the group to be better."
Brown can fondly reminisce about his old college teammate now, even saying that Watt was "just as huge, maybe even bigger," as an 18-year-old. For the Steelers linemen, who'll have to defend Watt, though, it's no laughing matter.
The Steelers are desperate for a win, if only to rid themselves of the bad taste left by last week's lackluster performance at Cleveland. One of, if not the biggest, keys to victory will be trying to contain Watt. Good luck with that. Many have tried and many have failed.
"He's always in the right place at the right time," Beachum said. "Finds a way to get to the ball, finds a way to bat balls down, finds a way to get to the quarterback, gets hits, does a great job of putting himself in the right position."
Houston defensive coordinator Romeo Crennel moves Watt along the defensive line, meaning that almost every Steelers linemen will get their shot against the 2012 Defensive Player of the Year. Likely, he will require two blockers.
"We have to defend him," right guard David DeCastro said. "He's still a person, still a human being, still a ball player. He has bad plays too. Obviously, he has a ton of good ones but we've just go to go out there. We've got a great scheme, a great plan, we just have to go and execute it."
For a Steelers offense that has been heavy on yards but light on scoring — two combined touchdowns in the last two weeks – Watt presents a challenge on the Monday night stage. Right tackle Marcus Gilbert said the Steelers should take it personally.
"You want to go up against the best because all eyes are going to be on you," he said. "Every guy is going to see him on the line. If he's lined up on my side, sure, I'll be glad to have him."