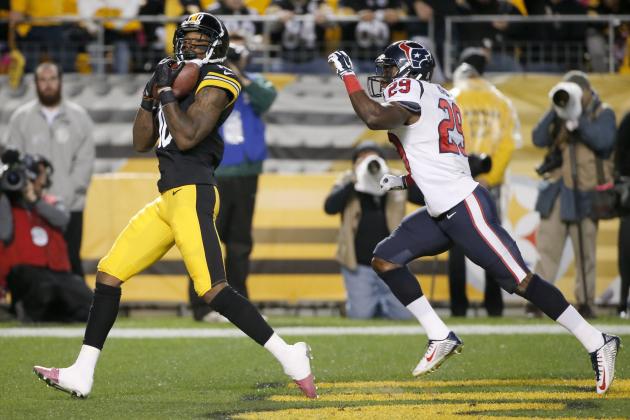 Markus Wheaton hauls in a 35-yard touchdown pass from Ben Roethlisberger in Monday night's win over Houston. (AP/Gene Puskar)
Go big or stay home. That is the way the Steelers have to think, how they can make something of this season and a necessary mantra for their challenging course. There can be no Steelers football in January if the rest of October and all of November and December aren't about going big.
The offense has not always looked like the Steelers' attack of the past three seasons. There was actually a time when Ben Roethlisberger was allowed to throw the ball, and by that I mean he spiraled it downfield.
The Steelers were basically a top-five team in terms of average yards per pass attempt over the initial eight seasons of the Roethlisberger Era. They made the playoffs six times over that span, winning two Super Bowls, losing one and also falling short in an AFC title game.
Those eight years represent the second-greatest era in franchise history, topped only by those Super Steelers of the 1970s, and we probably took it for granted because it felt like there was a formula in place for the good times to keep going.
Actually, the formula was in place.
Then the Steelers switched their offensive philosophy, replaced coordinator Bruce Arians with Todd Haley and tried to party like it was 1999 when the offense was a bunch of "Bus" rides and short routes. Call the current approach whatever you want — coach Mike Tomlin offered the word "balanced" last week — but it's really running to set up the pass, and it had made for some nice looking numbers, just not the one that mattered.
The modern NFL may be about complicated offenses and defenses deemed successful by making stops only at the most opportune times, but there remains a simple way to win: stretch the field.
Only one of the past five Super Bowl participants has finished outside the top 10 in average yards per pass attempt, and those 2012 Ravens completely changed their attack plan — essentially turning loose quarterback Joe Flacco — after changing offensive coordinators late in that season.
The champion Seahawks and runner-up Broncos were second and third in average yards per pass attempt last season.
The Steelers were tied for 11th. The season before they were tied for 16th. They finished 8-8 each time, and it is no coincidence they reached the playoffs only once over the past decade when placing outside the top 10 in the NFL's most important offensive statistic.
Though he's been off with many throws this season, Roethlisberger has shown he can make the big pass play, including Monday night. Before facing the Texans, he was 11 of 18 for 222 yards with three touchdowns against zero interceptions on attempts between 20 and 40 yards.
So the fix for the Steelers is an easy one, right? Roethlisberger should forget the dinking and dunking that has become the hallmark of Haley's offense and start flinging that football.
Indeed.
Except, who could he trust to go deep and haul it in?
Antonio Brown is arguably the most dynamic player at his position, a wide receiver without limitations. (He even tosses touchdowns.) Opponents know this, and that is why Brown is consistently facing defenses designed to limit the damage he can cause. Brown gets his catches and yards, but teams are determined not to let him beat them.
That isn't an example of brilliant defensive scheming. It is an acknowledgement by defensive coordinators that the Steelers lack another consistently capable receiver.
Haley and Roethlisberger really needed more from Markus Wheaton, a second-season wide receiver with the experience of a rookie. Of course, it was a terrible decision by management to count on Wheaton as a No. 2 receiving option for Roethlisberger.
It would be ill advised to stick with Heath Miller's way of playing the tight end position. A majority of teams possess athletic tight ends who are primarily receivers. The Steelers need one or two of those, but that will have to wait until the offseason.
There is still this season to turn around, and the Steelers can do that the same way Roethlisberger turned around the Texans late in the first half.
He threw deep to Martavis Bryant, a rookie who ran past the coverage and under a 35-yard bomb.
Go figure, it worked. Let's see some more.
Rob Rossi is a staff writer for Trib Total Media. Reach him at
rrossi@tribweb.com
or via Twitter @RobRossi_Trib.


Read more: http://triblive.com/sports/robrossi/6952988-74/steelers-season-roethlisberger#ixzz3Gm3gnMy3
Follow us: @triblive on Twitter | triblive on Facebook