Veteran winger brings cheer, skill and grit back to Pittsburgh in return from injury
October 10, 2014
Pascal Dupuis celebrates his first-period goal with Evgeni Malkin on Thursday at Consol Energy Center. — GETTY IMAGES
PITTSBURGH -- Rookie head coach Mike Johnston earned his first NHL victory as the
Pittsburgh Penguins
rolled over the defending Pacific Division champion
Anaheim Ducks
by a 6-4 count.
General manager Jim Rutherford, likewise, got his first win with the Penguins after spending his entire managing career with the Hartford Whalers/
Carolina Hurricanes
franchise.
But on a night all about firsts for the revamped Penguins, it was a familiar face that enjoyed a special return to action after a long absence.
Pascal Dupuis
, a cheerful, hard-working winger who arrived in Pittsburgh in 2008 as a throw-in to the
Marian Hossa
deal, missed the second half of last season and the playoffs with a knee injury.
Even though he did not rejoin his usual linemates Crosby and Kunitz, Dupuis still lit it up with
Evgeni Malkin
and
Brandon Sutter
, collecting a goal and three assists.
[+] Enlarge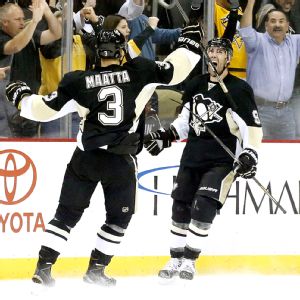 Charles LeClaire/USA TODAY SportsPascal Dupuis had a goal and three assists in his first game since suffering a torn ACL.
His assist on Sutter's shorthanded marker in the first minute of the third period restored a three-goal Pittsburgh lead and took the starch out of a Ducks team that refused to quit -- at one point erasing a 3-0 Pens first-period lead to tie the game at 3-3.
The last time Dupuis had a four-point night? 2004.
We often throw around terms like "good guy in the dressing room" or "glue guy."
Sometimes we use those terms because we don't know what else to say about a player.
In Dupuis' case, they fit like a glove.
And it's not hard to draw a line from his absence to the aimless manner in which the Penguins finished out their season, blowing a 3-1 series lead in the second round to the
New York Rangers
.
This isn't to suggest that had Dupuis not been injured things would have turned out differently. Maybe they do, maybe they don't.
What is not in question is the fact ownership questioned the team's makeup, will to win, grit and toughness at the end of the season.
Those questions led to the firing of GM Ray Shero and head coach Dan Bylsma, plus a significant overhaul of the lineup.
Dupuis' toughness has never been a question mark, and he has for much of his time in Pittsburgh been an important part of the penalty kill, as well as playing with the team's most skilled players.
But he is also 35 years old and the torn ACL left some with doubts about what kind of Pascal Dupuis might return to action.
While he devoted himself to his new "job" of rehabbing, he acknowledged the hard part was watching his team struggle without being able to help.
Once Dupuis knew that his season was over last year, he turned his focus to Thursday's game against the Ducks.
"There was never a doubt in my mind that I wouldn't come back the same player," Dupuis said after the game.
"But it was definitely a long road."
Crosby, who also enjoyed a banner opening night with two goals and an assist, is familiar with that road.
The defending Hart Trophy and Ted Lindsay Award winner missed significant time in recent seasons recovering from concussions and a broken jaw.
He understands the emotions that come from trying to recover from long-term injuries.
"You see the disappointment on their faces when they're not with the team," Crosby said.
And likewise, he knows the emotion that comes from returning to action and hoping to return to form.
"Knowing all that, you just kind of have an appreciation for it and you're really happy for [Dupuis]," Crosby said.
Netminder
Marc-Andre Fleury
, who earned the win with a 25-save performance, joked that he has no idea how Dupuis felt because Fleury never gets to score any goals.
Then he acknowledged that the dressing room was a different place without Dupuis in it.
"He's really a good guy to have in the room," Fleury said. "He's always smiling and saying stupid stuff."
Opening nights aren't for answering questions, at least not long-term or with any authority.
But on this night, for a team that has undergone so much and that still faces so many questions about its makeup and ability to return to championship form, Dupuis was a reminder of better times and perhaps a harbinger of good things to come.