JACKSONVILLE, Fla. -- After a team whose season could have gone either way – and still could -- gritted out a win Sunday afternoon, there seemed to consensus among the
Pittsburgh Steelers
that cornerback
Brice McCain
played like a combination of Mel Blount and Rod Woodson last week in practice.
Coach Mike Tomlin said McCain had four interceptions during team drills. Veteran cornerback
Ike Taylor
said it was much higher than that.
"He had like seven picks during the week," said Taylor, who is out with a broken arm. "In one practice, I think he had like three."
McCain had one measly pick Sunday, but his timing was impeccable. The sixth-year veteran turned a pre-snap read into the play of the game, as well as a teaching tool for Tomlin.
[+] Enlarge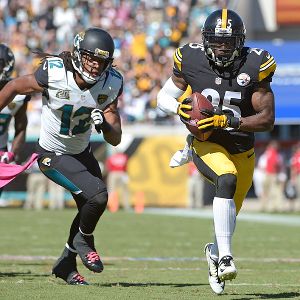 AP Photo/Phelan M. EbenhackBrice McCain turned practice production into a game-changing play in Jacksonville.
McCain jumped a route after a blitz hurried a throw from rookie quarterback
Blake Bortles
, and his interception and 23-yard return for a touchdown allowed the Steelers to hold off the winless
Jacksonville Jaguars
17-9
at EverBank Field.
"I told him before the game, 'Man you had a great week of practice. This is your game,' " Steelers free safety
Mike Mitchell
said.
There were several different ways to look at McCain's game-changing interception two plays after Steelers quarterback
Ben Roethlisberger
lost a fumble deep in Jacksonville territory with Pittsburgh clinging to a 10-9 lead.
It seemed, at first glance, to come from an unlikely source.
McCain, after all, had played so poorly in Houston in 2013 that the Steelers were able to sign the 27-year-old to a veteran minimum contract last March even though he has started in the NFL and is in his prime.
Tomlin preferred to look at the biggest play turned in by the Steelers' defense this season as "football justice."
"That's the type of week [McCain] had in practice," Tomlin said after the Steelers improved to 3-2. "It just reinforces the concept of the things that you do in practice have an opportunity to come up in a game."
How many times do you think Tomlin will make mention of that to his players, especially the younger ones, when the Steelers practice for their game against the surprising
Cleveland Browns
?
A great week of practice and a little intelligence he had gleaned while playing on a team that shares a division with the Jaguars led to McCain making his fifth career interception.
With the Jaguars facing second-and-12 from their own 15, Bortles changed the play from a run to a pass with the Steelers showing blitz.
Split end
Mike Brown
veered inside, and when McCain saw him stick out his elbow, he said he knew from previous experience that the Jaguars were trying to run Steelers cornerback Cortez Allen and McCain into each other.
NFL Nation: Week 5 Coverage
McCain avoided the traffic, and when
Allen Hurns
looped behind Brown, McCain was waiting for him – and the pass the Bortles wanted back as soon as he threw it.
"I looked back and he threw it right to me," McCain said.
Bortles said Hurns, who is also a rookie, didn't run the wrong route or that he should have shortened his route with the Steelers blitzing.
"I should have stayed with the play that was called, but it was just a bad read by me," Bortles said. "Worst-case scenario, I should have just thrown it over his head."
That wouldn't be too hard, as McCain is generously listed at 5-foot-9 and is anything but the biggest guy in the world.
Despite his lack of height, nobody stood taller in the Steelers' locker room after a win they had to have.
And Taylor, whose arm injury provided the opening for McCain to get on the field regularly as a nickelback, said what Bortles learned in his second career start: Don't overlook McCain.
"He's feisty and he hates to lose," said Taylor, who broke his forearm two weeks ago. "He can run with anybody and you saw what he can do."