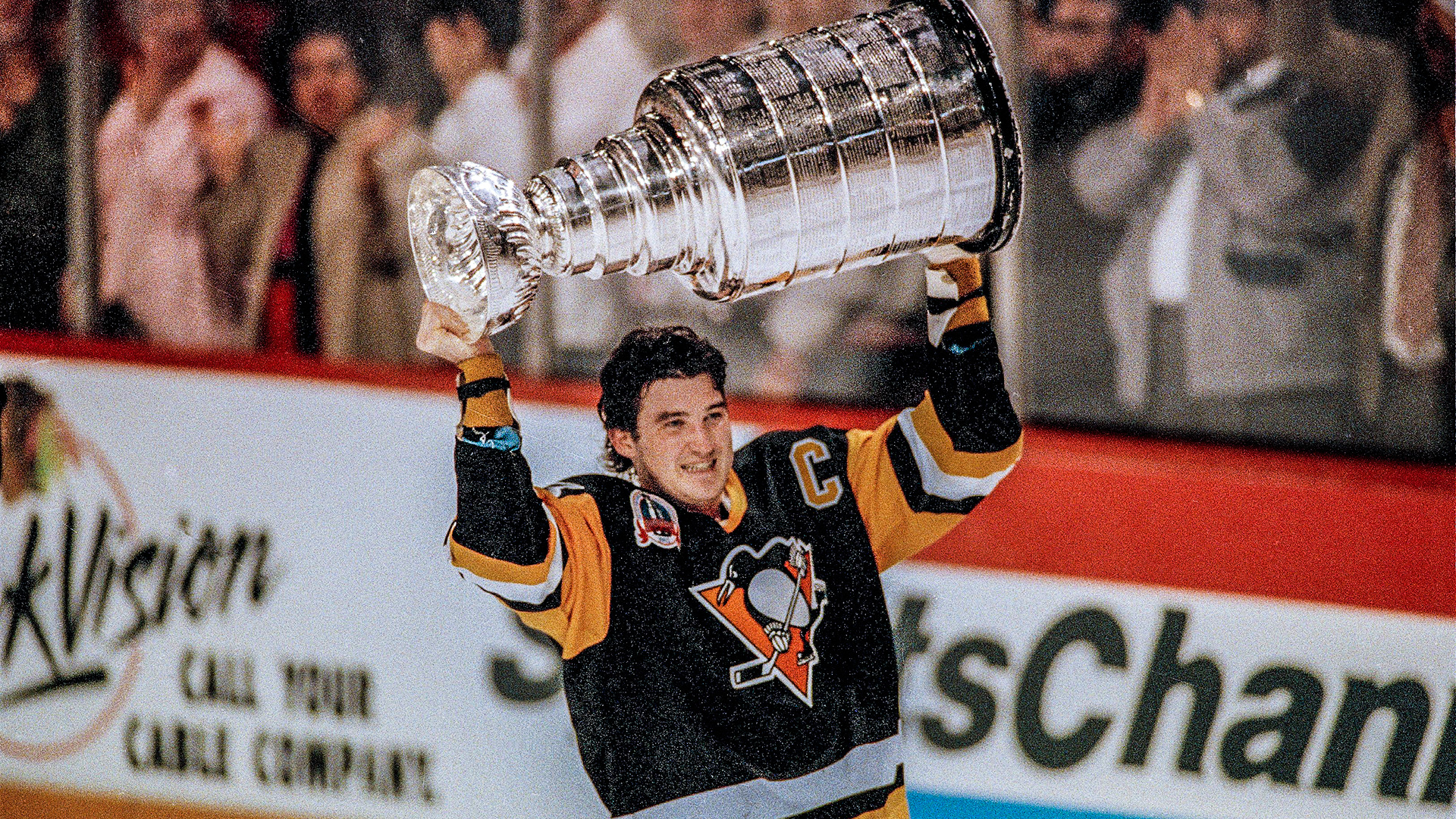 Mario Lemieux after winning the Stanley Cup in Chicago on June 2, 1992. (John Swart/AP)
When I was six years old, I went to one game in the Penguins' inaugural season, 1966-67. My late mother, Peggy Ann Madden, was a hockey aficionado. She wanted her son to attend a game in every year of the franchise's history.
So far, so good. Made a career out of it, even.
Leo McCafferty of the Penguins is producing a feature-length documentary on the occasion of the team's golden anniversary. Last Friday, McCafferty interviewed me for 90 minutes about the club's history.
It was cathartic, to say the least. Primal scream and shout, ooh, tear it out…
The four Stanley Cups are pleasant memories. That's the easy part.
But I can't help but think about Game 7 against the New York Islanders in 1975. Pierre Larouche hits the post at one end. Eddie Westfall banks it in off the post at the other. I close my eyes, and I can still hear both "clangs."
One-nothing, Islanders. I was 14, and I wept. I'm tearing up a little right now.
My abject hatred for the Philadelphia Flyers always simmers not far beneath the surface. Me verbalizing that might not make the final cut, but it should.
Yo, Philly: 42 years. Over 15,000 days. Four Cups to two. The Penguins endured two bankruptcies, but the Flyers have long been morally bankrupt.
Mike Crombeen in '81. John Tonelli in '82. David Volek in '93.There have been times when the pain really added up.
Last place in '84 didn't hurt. Worked out pretty good, in fact. Then-general manager Eddie Johnston will never admit to tanking. But it was a work of art.
When you consider all 50 years as a whole, it's amazing. Triumph and tragedy. Peaks and valleys. The blight makes the accomplishments burn all the brighter.
For example, the stats contribute to making Mario Lemieux the greatest player ever.
The eye test, even more so.
But conquering back problems, cancer and some of the worst wingers in NHL history is what checks the final box. Lemieux suffered for his art. Remember Steve Gatzos and Konstantin Koltsov? Me, neither.
Finishing last is the shortcut to finishing first, and also teaches humility. Finish middle, draft middle, stay middle. Just ask the Flyers.
Winning the Stanley Cup this past season meant a redesign of the Penguins' 50th anniversary logo that surely took the best part of 90 seconds. On the bright side, a fourth Cup is a terrific vehicle for promoting the upcoming documentary.
In the immediate wake of blowing that three-games-to-none lead against the Islanders in the '75 quarterfinals, I remember thinking how great it would be to win just once. It seemed impossible at the time, and for quite some time after.
Here I am, four Cups later and with the incredible feeling of being part of something a lot bigger than me. Not many have been there all 50 years.
In 1983-84, the average crowd at home games was 6,839. If you were there, you have every right to feel special. You have a bit more stake.
But, after 50 years, all are certainly welcome.
I've long felt that no Pittsburgh hockey crowd was ever louder than Dec. 27, 2000, Lemieux's comeback game. But those assembled this past May 10 certainly came close when Nick Bonino's overtime goal eliminated Washington.
I'd bet that no Penguins player ever really challenges Lemieux's level of achievement. But Sidney Crosby might come closer than once imagined.
After a half-century, the hits just keep on coming.
How much of my 90 minutes will be included in the documentary? Sex sells, so I'm figuring most of it.
McCafferty interviewed Lemieux right after talking to me. Finally, after all these years, somebody gave Mario a tough act to follow.
Mark Madden hosts a radio show 3-6 p.m. weekdays on WXDX-FM (105.9).
T
ags