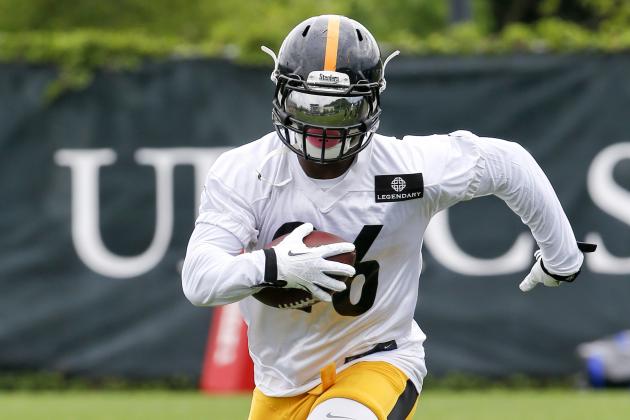 Keith Srakocic/Associated Press
I'm not the kind of guy to say I told you so, but…
Wait a minute. Who am I kidding? I am exactly that kind of guy.
On June 14, I said on my radio show and Twitter than Steelers running back Le'Veon Bell faced suspension for missing a drug test.
Bell responded by lying: "I haven't missed any drug tests (or) failed any drug tests."
The local media fell right in line, accepting Bell's denial unconditionally.
On July 22, ESPN's Dan Graziano "broke" the story. (Gag.) The NFL allegedly couldn't reach Bell to schedule tests because Bell changed his phone number. Bell now says he doesn't know where that story came from.
That's understandable. When you lie constantly, it's tough to keep track.
After the ESPN report, Bell defiantly said he wouldn't miss any games.
Steelers management complained about the story being "leaked," as if that negated Bell missing the test and ignoring that the leak came from within the organization.
(Note to the Steelers locker room: DeAngelo Williams was not the leak. Just because we both like pro wrestling doesn't mean we talk. We don't. That's hilarious: A leak that misidentifies a previous leak.)
Then, on Friday, the other shoe dropped. Bell got banned three games. The NFLPA negotiated Bell's suspension down from four games in a rare example of that union doing something besides mangling.
Bell apologized to Yinzer Nation, but continued to lie. He said the NFL tried to test him at 5:37 a.m. on a Saturday morning in April.
That simply didn't happen. Nobody in any profession gets drug-tested at 5:37 a.m. on a Saturday morning.
Bell should hire Ryan Lochte as his publicist. Bell's cascade of horse flop makes Lochte's nonsense sound believable.
Bell being out three games puts undue pressure on his teammates. If the Steelers lose a game they shouldn't -- like Week 2 at home vs. Cincinnati -- they might get a wild card instead of the AFC North title. Maybe they miss the playoffs. It's a fine line.
Williams, 33, proved himself a decent running back last season when Bell was suspended, then hurt. But Williams is another year older.
The story now is accountability.
Ever wonder how the Steelers locker room reacts to an event like Bell's latest suspension? Or his prior suspension? Or Martavis Bryant's season-long suspension?
Yeah, I know: Everybody's sorry. Deeply apologetic. The Steelers have only won one playoff game in the last five years, but have gotten real good at mea culpas.
Has a team leader (or leaders) told miscreants like Bell that being suspended twice before his fourth NFL season is unacceptable? Or is it more important to be one of the boys? Has Bell been on the receiving end of any harsh invective from Coach Mike Tomlin? Or is it more important for Tomlin to be one of the boys?
It's understandable when stupid incidents happen occasionally. But they're happening constantly in an organization that used to pride itself on being mostly above such shenanigans. (You're talking about shenanigans, right?)
The great unwashed often says, "I don't care what they do off the field." Perhaps it's blissful to be mind-numbingly shallow.
But Bell's irresponsibility off the field will keep him off the field for the season's first three games. Worse yet, it screws up your fantasy draft.
For Bell to commit the amount of drug-policy violations necessary to get suspended twice in two seasons, he doesn't care. Bell says he does, but his repeated actions speak louder, and say that he doesn't. Bell likes getting high more than he likes football.
Either that, or he's incredibly stupid. That's a possibility that can't be dismissed.
Mark Madden hosts a radio show 3-6 p.m. weekdays on WXDX-FM (105.9).