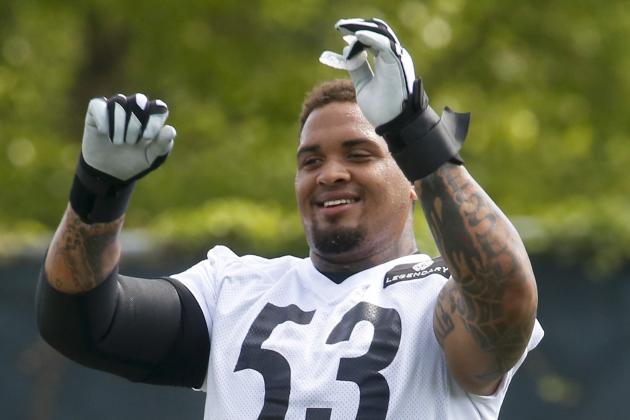 Keith Srakocic/Associated Press
LATROBE – Mike Munchak can only chuckle when he hears that Maurkice Pouncey isn't the best center in the NFL.
That kind of talk has been heresy in Pittsburgh ever since the Steelers made Pouncey the 18th overall pick in the 2010 draft. Who can argue against two first-team All-Pro selections and four Pro Bowls in a six-year career?
Well, apparently there's some in the analytics crowd that think a little less highly of Pouncey, who routinely falls out of the top 10 in some position rankings.
"When we look at things like that, we all laugh," said Mike Munchak, the Steelers offensive line coach and a Hall of Fame guard as a player. "These people don't know what's going on, what's been asked of him or what he's doing.
"You see the results. You can't argue with the results. Watch him on tape. Watch how many times guys touch the back or make a play and it's not very often."
Munchak, doesn't agree, but he understands why some haven't awarded Pouncey his due respect.
Injuries have hampered Pouncey in two of the last three seasons, including 2015 when he went on season-ending IR with an ankle injury suffered in a meaningless preseason game. The Steelers were hoping to get Pouncey back last November but an infection had set in, turning the 6-foot-4, 304 pounder's ankle a nauseating color of black and purple, two colors that don't sit well with the Steelers.
"It went all downhill from there," Pouncey said.
Those were some dark days for the 27-year-old. He says he never contemplated that his career could have been over, one year after signing a five-year, $44 million contract extension, but he admits he felt out of the loop, if not for a weekly Thursday night dinner at his house with teammates watching football.
Now, after an almost unconscionable seven surgeries, three major procedures and four clean-ups later, Pouncey is coming back off the mat and has declared himself 100 percent ready to go. Pouncey went through spring practice without difficulty and has played without limitation in training camp. Upon arriving in Latrobe last week, Pouncey put on a display in the team's conditioning run, sprinting way ahead of his fellow lineman.
"I feel like me again, trust me," Pouncey said Monday. "I wouldn't be out there if I didn't."
The bigger problem for the Steelers might be getting Pouncey off the field.
"He's hard to get to rest," Munchak said. "His mindset is, if I have my stuff on , I want to work. Which is a great attitude. That is why he is who he is."
The Steelers would like to take it slow with Pouncey in camp and certainly in the preseason, but there's been little sign of that yet and almost no chance that he would accept it as the unquestioned leader of the offensive line.
"If you see our individual (drills), he sets the bar high," said left guard Ramon Foster. "That's not him trying to show off, that's just the way he's wired. He'd tell you 'I'm a crazy guy,' but everything he does is full tilt. He embodies talent with hard work."
Without Pouncey last season, the Steelers still managed to put up 395.4 yards per game, the NFL's third-highest total, while Ben Roethlisberger had the lowest sack percentage (4.2) of his career.
Had Pouncey been healthy — let alone Antonio Brown, Le'Veon Bell and DeAngelo Williams — maybe the Steelers beat Denver and are playing for a spot in the Super Bowl last year. With Pouncey and the aforementioned back this season, there's no reason to believe they can't vie for the Lombardi Trophy this year.
No offense to Cody Wallace, who did yeoman's work filling in again for Pouncey, but he's not Pouncey. And the Steelers would argue that no one else is.
A healthy Pouncey should allow the Steelers offense to be fully operational. His athleticism and quickness for a big man is remarkable. He excels in all areas, pass protection, pulling and second-level blocking on running plays. Most of all, he'll make life easier on Roethlisberger.
"The comfort he gives Ben, that's priceless to me," Munchak said. "When Ben is not worrying about managing the line of scrimmage, making the decision, which way we're sliding, what we're doing protection-wise, he understands his mannerisms. So they're on the same wavelength that Ben is with AB. A center and quarterback? That's a huge thing. As much as Cody did a great job, certain guys have a knack for doing things certain ways. He's one of those guy that's kind of special. You can't appreciate him until you coach him."
And, teammates say, it's not just what Pouncey provides on game day but on the practice field and in the locker room, where the gregarious center is usually the center of attention. He may play with a snarl, but is usually sporting a smile off it.
Pouncey had been on Munchak's radar dating back to his time at the University of Florida. Obviously, he was well aware of Pouncey's on-field exploits but didn't have a better appreciation for the man until he began coaching him.
"He screams, there's a lot of things he does that's fun to watch," Munchak said. "He's always getting better. He's not set in his ways. I came here and he'd been through a couple (position) coaches. He's still willing to learn and try different things and not get locked into doing certain things.
"He's fun. He's light. His personality is fun. He's always laughing. He keeps other guys light when things are stressful. It's all the intangibles."
For the Steelers, that all adds up to the best center in the game.
"When he play, there's no one better," Munchak said. "Hopefully, we'll be sticking together for the next five years."