Jeremy Fowler
ESPN Staff Writer
http://www.espn.com/blog/pittsburgh-steelers
August 19, 2016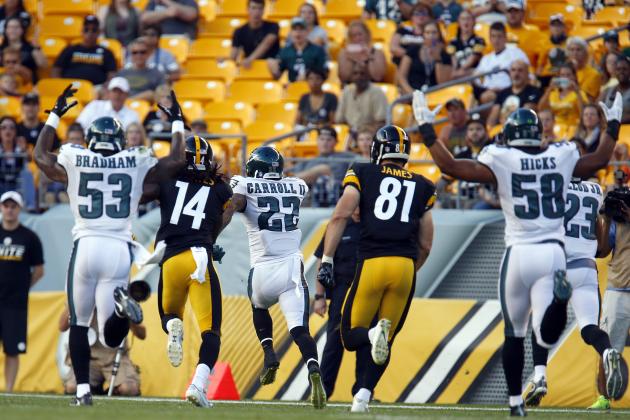 Philadelphia's Nolan Carroll returns an interception for a touchdown in last night's 17-0 win over the Steelers. (Justin K. Aller/Getty Images)
It's the preseason. And Jones is better than this. But a six-quarter preseason stat line of 18-of-32 for 166 yards, one touchdown and four interceptions will never instill confidence. Jones had solidified the No. 2 job in training camp, where he was generally pretty good.
Jones is unfazed by the picks.
"You have to let it rip," Jones said. "I would rather play aggressive than hold back and play scared."
It's no wonder the Steelers sat Roethlisberger for a handful of training-camp practices and two preseason games. They don't want to risk a thing.
Safe to say the Steelers -- who fell to 0-2 in preseason after Thursday's
17-0 defeat
-- will probably run the ball a ton if Roethlisberger gets hurt.
Le'Veon Bell
and
DeAngelo Williams
all afternoon.
Bruce Gradkowski
wasn't the answer, but he's hurt because of a torn hamstring and will be out awhile. There are no viable free-agent options.
Dustin Vaughan
is considered a project, at least for now.
Jones is basically it. And sometimes there's good Landry ... until very bad Landry rears his turnover-prone head.
Jones just got booed in the preseason.
At least Jones' picks weren't all his fault. He got hit on his last throw, with a wobbling ball falling into the hands of defensive back
Jaylen Watkins
. Two passes intended for
Sammie Coates
looked like miscommunications. In fact, Coates played the good teammate by blaming two of the interceptions on himself, not coming back to the ball on a throw in the first drive and not going up for the ball on a toss to the corner of the end zone.
"It wasn't his fault," said Coates about Jones. "We have to make those plays for him."
That won't quell the concerns on this night.
QB depth chart:
Jones played the entire first half, followed by Vaughan, who started slowly (3 of his first 5 for just 20 yards) but connected with
Cobi Hamilton
on a 29-yarder down the sideline and finished 7-for-13 for 67 yards. He has a big arm but needs more polish.
Maybe that dude could start:
Eli Rogers
is coming on as a slot receiver, and he didn't disappoint with four catches and 39 yards in limited action. He has a quick first step and uses it to navigate the middle of the field. In two preseason games, he's the young receiver who has stood out the most. Rookie slot corner
Sean Davis
looked more prepared running with the first team than he did a week ago, when he admitted to nerves.
Who got hurt?
The Steelers left the game in relatively good health but had several key players sidelined from the start, including three of their past four first-round picks:
Jarvis Jones
,
Bud Dupree
and
Artie Burns
.
A surprise player who impressed:
Defensive back
Montell Garner
is making a case to stay on the team. His activity in the open field is noticeable. And with cornerback
Senquez Golson
out because of a Lisfranc injury, there could be room for one more newbie in the defensive backfield. Safety
Jacob Hagen
has good range at 6-foot-3. He closed on one ball quickly for a pass breakup, like he did a few times in Monday's practice at Saint Vincent College. He's a long shot, but he has presence.
When it was starters vs. starters, the Steelers looked ...:
Solid defensively. The Steelers mixed and matched coverages (yes, some 4-3 action), with Eagles quarterback
Sam Bradford
averaging 6.1 yards per passing attempt. The Eagles' underneath passing game was a good matchup for Pittsburgh, but the Steelers were active and sniffed out Philadelphia's screen passes and tight-end targets. On an
Arthur Moats
sack, safety
Robert Golden
covered the hot read perfectly and Bradford was all alone. "I felt like we bounced back from last week where we weren't getting off the field on third downs," Moats said.
One reason to be concerned:
The Steelers need a lift at tight end with
Ladarius Green
out, and miscues by
Jesse James
and
Xavier Grimble
didn't help that cause. James missed an edge block that resulted in Jones taking a hit on his final interception. Grimble has an intriguing skill set, but he dropped a wide-open pass over the middle in a rare chance to make an impact. James had held his own in run-blocking early in the game, so his miss was curious.
Pouncey back:
Pro Bowl center
Maurkice Pouncey
played his first NFL game snaps in 360 days. Pouncey injured his fibula on Aug. 23, 2015, against the Packers, resulting in a missed season and several surgeries. "It felt amazing to be back out there with the guys, hit around," Pouncey said. "I was smiling the whole time."
No preseason playoffs for Steelers: The Steelers are now 2-13 in their past 15 preseason games after the loss to the Eagles. Time to rebuild!