By Dejan Kovacevic
http://triblive.com/sports/
Published:
Sunday, Jan. 5, 2014, 10:09 p.m.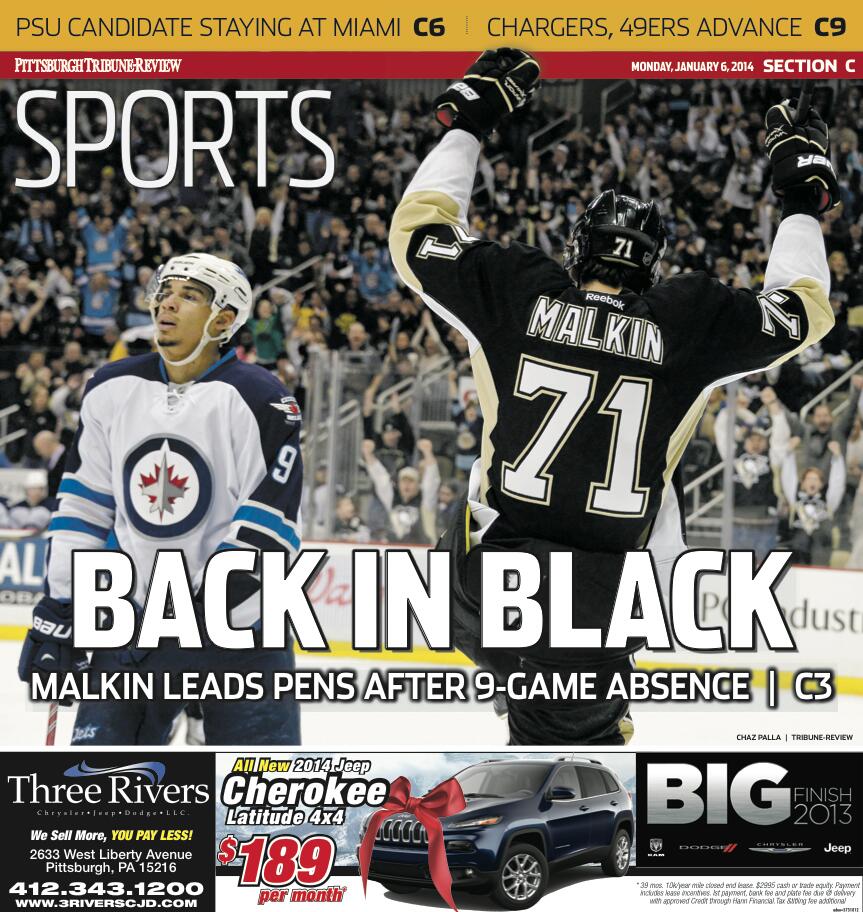 Generally speaking, your favorite hockey team has had a rough day when, after scoring six goals and rallying to win late, the opposing coach can take a wholly justified jab.
"I'm disappointed in how we defended," Winnipeg coach Claude Noel was huffing Sunday before a bank of reporters at
Consol Energy Center
. "But they gave us five goals, so it's not like
they
were putting on a clinic, either."
Yikes.
Hide the women, the children, the stumbling Brooks Orpiks, the bumbling Dustin Byfugliens, the knuckleball/ricochet goals and the last-minute meltdowns. It really was that ugly for both sides.
But you know what?
The Penguins won again.
Know what else?
It's pretty much all they do.
And yet, I'm going to predict right here that, especially after laying an egg like this, the complaints among the fan base — social media, talk shows, the whole deal — will outnumber the compliments by, oh, a 6-5 margin.
Am I right?
Because that's how we roll. Nothing in our town spoils us quite like the local hockey franchise.
These Penguins are 31-12-1, they're comfortably in first place, they've won 16 of 19, and they just matched a team record with a 12th consecutive home win. They've beaten the NHL's best, taken care of business against the worst. Their power play is ranked No. 1 in the NHL, the penalty-killing No. 2. And they've done all this despite a ridiculous run of injuries and suspensions.
And the reaction?
Well, of course they're good. They're always good.
Sidney Crosby's career was feared over not all that long ago, but he's producing his league-best 63 points with a consistency that, unfortunately, actually downplays his brilliance. It's one or two points per game rather than five-point outbursts, and that's more valuable than running it up against weaklings.
Well, of course we have the best player in the world. We've had one guy or another being the best player in the world for, what, 30 straight years now?
Marc-Andre Fleury leads the league, too, with his 25 victories, as well as ranking 10th in goals-against average at 2.23. He's logged the second-most ice time, much of it behind a Wilkes-Barre/Scranton-level defense, and all he's done is win. On Sunday, that came in the form of protecting the late lead with a mind-bending pad save on Andrew Ladd, of which Winnipeg's Evander Kane said, "I don't know if there's another goalie in the league who stops that."
Well, of course Fleury's playing great now. Just wait till Game 1 against the Flyers.
Dan Bylsma's doing the best coaching of his career, and it's been built at least partly on a newfound openness for strategic adjustments and —
gasp
— the occasional line matchup. I'm not wild about some of his personnel choices, notably the continued mishandling of young defensemen, but wins are wins.
Well, of course he's winning. There's no Claude Julien on the other bench night after night.
I could do this all day.
No, it's not a perfect team. Yes, Ray Shero has work to do. But whether it's Evgeni Malkin's Mario-like return from injury Sunday or James Neal scoring with or without Malkin, or Chris Kunitz joining Neal as a richly deserving candidate for Team Canada, or summertime afterthought Matt Niskanen's plus-21 rating and winning blast past Al Montoya on Sunday, or Olli Maatta looking as poised as any 19-year-old defenseman in these parts since … um, never, it just seems to me this is a season worth appreciating so much more than it has been.
"Yeah, we've kind of noticed that," Niskanen was saying after the game. "I understand it, too. I think we've all felt the way the fans are feeling with how stuff went down last summer. We felt there was more to this group, too."
He was referring, of course, to being swept out of the Eastern Conference final by Boston, a still-festering memory that beyond a doubt is most responsible for all this blah. Even all this time, no goals seem to matter except all those that weren't scored against Tuukka Rask.
"I understand where the fans are coming from," Niskanen continued. "But I think there might also be a few that are a little bit spoiled and expect us to win every game. That's OK. We have high expectations, too. But it's
hard
to win in this league. Really is."
Long pause.
"We're doing that right now. We're winning. And you'd better believe we're enjoying it."
The guy shoots straight in more ways than one.
Dejan Kovacevic is a staff writer for Trib Total Media. Reach him at
dkovacevic@tribweb.com
or via Twitter @Dejan_Kovacevic.


Read more: http://triblive.com/sports/dejankovacevic/dejancolumns/5335612-74/course-win-goals#ixzz2pdSaTBYF
Follow us: @triblive on Twitter | triblive on Facebook