For two remarkable months, Patrick Kane was virtually unstoppable. With the puck seemingly always on his stick, he was firing pinpoint backhanders, wheeling no-look passes and undressing defenders nightly. He was so good — and so consistently good — that he was named the NHL's player of the month in November and December, racking up 16 goals and 26 assists in 29 games.
Those are eye-popping totals from one of most skilled players in the world and the best run he has had in his stellar career.
''The first 40-something games were pretty amazing,'' Blackhawks coach Joel Quenneville said. ''It's hard to do what he was doing game in, game out.''
That said, it's exactly what Pittsburgh Penguins star Sidney Crosby does routinely — every month, every season. And it's why even Kane can see the Art Ross Trophy he would love to add to his trophy case is going to be awfully difficult to come by as long as Crosby is around.
''He produces every night,'' Kane said. ''He's fun to watch. Even on nights where he maybe doesn't have his best game, he still comes out of there with two assists or a goal and an assist. Then there are games where it seems like he's determined, and he's the best player in the world and just dominates the game. You're like, 'Wow, this guy is amazing.' I think he's the best player in the league, for sure.''
Kane is still in that conversation and still in the running to be a Hart Trophy finalist as the NHL's most valuable player. But he has proved to be human of late, and a 10-game goal-scoring drought — his longest since the 2008-09 season — has dropped him off the scoring-race pace. Kane has only three assists in those 10 games. So while he was only three points behind Crosby at the end of his torrid stretch, he was 12 back (68-56) entering the Penguins' game Monday, despite having played three more games than Crosby.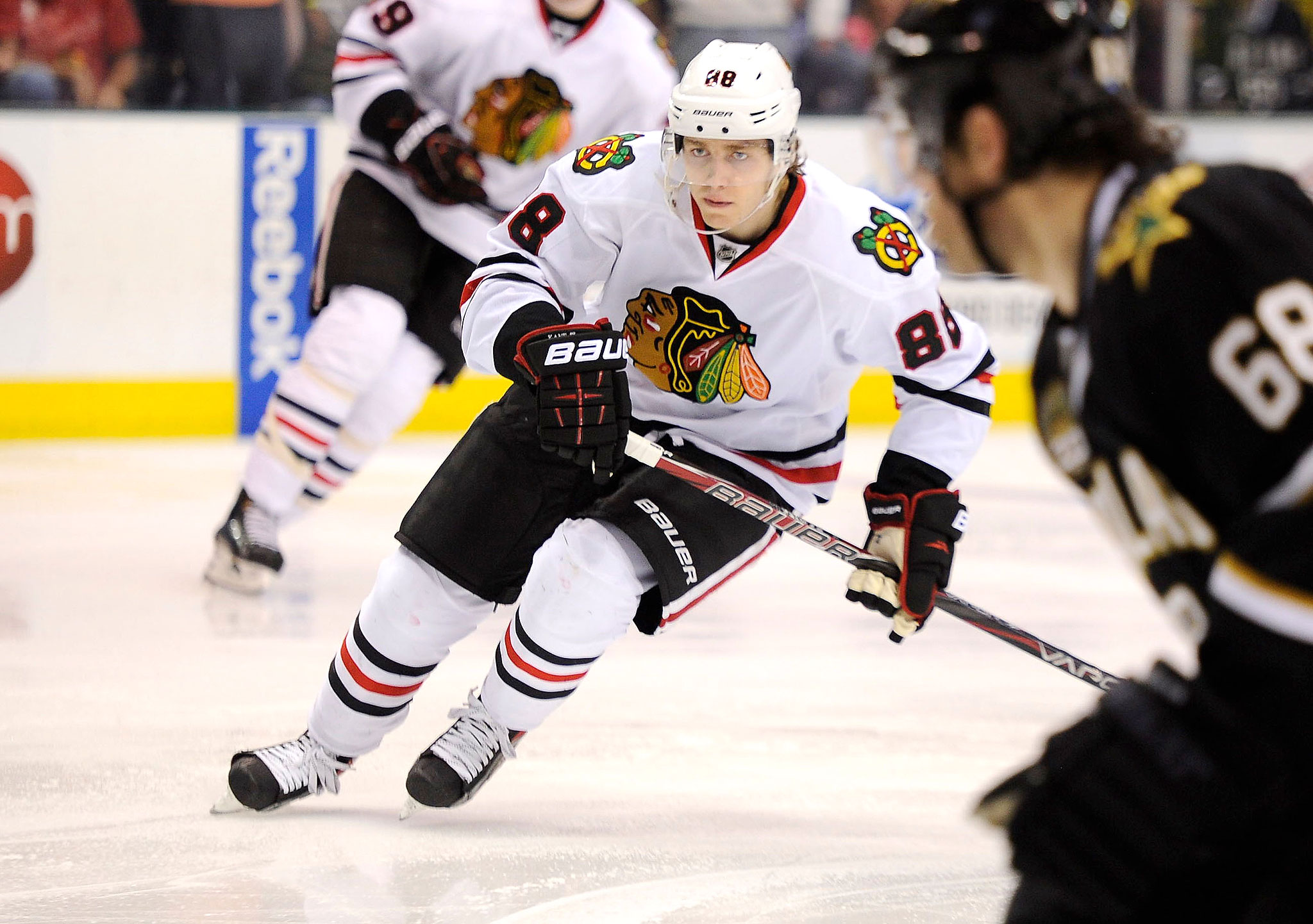 Incredibly, Crosby has gone without a point in only nine games this season. Kane, even with a stretch of 26 out of 27 games with at least a point, has gone without a point in 15 games.
A healthy Crosby sets the bar almost impossibly high for the rest of the league. But it gives Kane, who watches a lot of hockey and keeps tabs on the other great players, something to strive for.
''The thing is [being] consistent,'' he said. ''That's the biggest thing about it. To do that for 82 games is where he's at, and I'm not, I guess. Consistency is the biggest thing, just to keep that chugging along the whole year. I was real hot and right there with him, and then he kind of continues and keeps trotting on.''
Kane seems to be on the verge of busting out of his slump. He has been noticeably more active in the offensive zone since Brandon Saad and Andrew Shaw were put on his line four games ago. He watched highlights of his hot streak to remind himself how much more ''dangerous'' he was off the rush. He talked with his dad about going back to what was working in November and December, when he was shooting low. The high shots are the prettier ones and the open spaces in the top corners can be inviting, but low shots generate more rebounds and still can sneak through.
And Kane said he hoped his shootout winner Sunday against the Boston Bruins — his first shootout goal in 10 attempts this season — can get him going again.
''I want to get better,'' he said. ''I want to improve and get back to the level I was at a little bit before. I guess that starts with hard work.''
Twitter: @marklazerus