By Dejan Kovacevic
http://triblive.com/sports/
Published:
Thursday, Jan. 23, 2014, 10:39 p.m.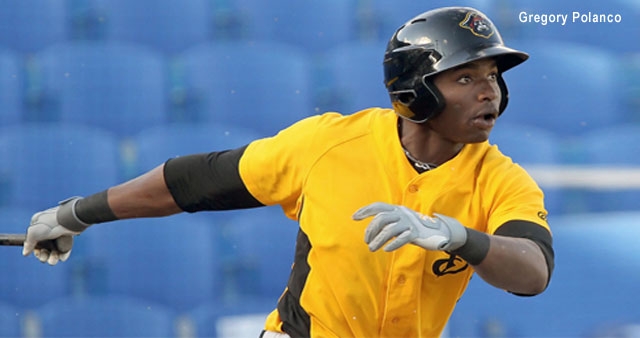 Phone rang the other day, and I had to yank it away from the ear before it ever got close.
"Warren Cromartie! Ellis Valentine! Andre Dawson!" the voice boomed from the other end. Rene Gayo, the Pirates' lovably loud Latin American scouting director, does that sort of thing a lot. It's like his hello.
In this case, he was referencing the magnificent Montreal outfield of the 1980s, the Expos' trio of athletic, dynamic, intimidating five-tool forces.
I had a pretty good idea where this was going.
"That's what we've got coming!" Gayo continued at peak decibel. "Two guys who can hit, throw and fly on the corners and an MVP in the middle!"
Yep. Andrew McCutchen, flanked by Gayo's two most prized signings out of the Dominican, Starling Marte and up-and-soaring prospect Gregory Polanco.
Should be a blast.
It should be a ton more fun than this dud of an offseason, huh?
Unless, of course, you're jumping into the Allegheny with excitement over Clint Barmes' return, Charlie Morton's extension and an old logo being called a new logo while the logo it replaced wasn't actually replaced.
Otherwise, it's been mostly exits: Marlon Byrd flew back to the Phillies for two years, $16 million. Justin Morneau signed with the Rockies for two years, $12.5 million. A.J. Burnett remains perched on the retirement fence after the Pirates wouldn't pay the $14 million arbitration tender, even as neither side has slammed the door shut.
Are they being cheap?
Well, the math isn't pretty: The Pirates spent $74,608,266 on the 40-man roster last season. (Note that's not
opening-day
payroll, the figure most often cited but which means next to nothing. That's the amount actually spent in 2013.) To date, the team's internal projections show a $78 million opening-day payroll for 2014.
If it holds, it's a $3.4 million increase.
Which would be pitiful.
And it would look that much worse in the context of an expected rise in attendance — Frank Coonelly has been crowing all winter about a record year at hand — as well as the $25 million in new national TV money from Major League Baseball's recent extensions with ESPN, Fox and TBS.
By season's end, there's no excuse for payroll to wind up below $90 million. Bare minimum.
But there's still ample time to spend and, if you ask me, a handful of ways to be smart about it:
1. DO MORE EXTENSIONS
Don't overthink it. There's no better use for spare money with a franchise like the Pirates than to keep the core together. Neil Walker and Pedro Alvarez would do just fine.
2. LEAVE RIGHT FIELD ALONE
Sure, I'd have welcomed back Byrd, but Polanco probably will arrive in mid-June if you've listened carefully to Neal Huntington and Clint Hurdle. In the interim, Jose Tabata and Travis Snider make for adequate placeholders.
3. FIND A FIRST BASEMAN
A sound argument can be made that Morneau could have provided stability. A stronger argument could have been made for James Loney, who chose the Rays at three years, $21 million, one more year than the Pirates wanted. So they'll go to Bradenton with unproven Andrew Lambo and platoon-profiled Gaby Sanchez. I hear the Pirates still are eyeing the Mets' Ike Davis and the Rangers' Mitch Moreland should they become available in the final week of spring training. Davis, 26, and Moreland 28, are big men with legit left-handed power. Both are worth the wait.
4. WAIT OUT A.J.
Really, there's no rush. The Pirates' money is still there on the table, they don't have other viable options, Burnett clearly wants to take his time, and so be it. If he signs for $10 million, suddenly payroll is near where it should be, and the staff adds a strikeout/groundout ace. If not, Francisco Liriano, Gerrit Cole and Morton are the top three, Jeff Locke can try to shake off his sluggish second half as a No. 4, plus maybe a healthy Wandy Rodriguez, maybe a rebounding Edinson Volquez. And Jameson Taillon can share a ride across I-70 with Polanco in mid-June.
5. STASH IT AWAY
As we saw late last summer, it can come in handy.
I asked Huntington on Wednesday in particular about Lambo at first base, the issue that might loom largest.
"Andrew has grown to a point where he's in a quality position to capitalize on an opportunity," the GM replied. "We have work to do defensively, but if he progresses as expected, that may be his best opportunity. We've liked the young man for a long time and look forward to his continued growth. Part of what's allowed us to be patient in the first base/right field market is the comfort we have with our internal options."
Sounds fine by me. Lambo is only 25, and he slugged 33 total home runs last season, one with the parent club.
It all just doesn't feel that urgent yet.
Other than, of course, waiting for Polanco in front of the Clemente Wall.
Dejan Kovacevic is a staff writer for Trib Total Media. Reach him at
dkovacevic@tribweb.com
or via Twitter @Dejan_Kovacevic.


Read more: http://triblive.com/sports/dejankovacevic/dejancolumns/5448157-74/pirates-million-kovacevic#ixzz2rJVv4Pa2
Follow us: @triblive on Twitter | triblive on Facebook