By
Scott Brown
http://espn.go.com/blog/pittsburgh-steelers
January 21, 2014
PITTSBURGH -- He couldn't have scripted the end of his Hall of Fame-caliber career any better.
Jerome Bettis won the Super Bowl that had been so elusive, and he did so in his hometown of Detroit.
The former Steelers great then made a seamless transition into his post-football life in part because he did not have a choice.
[+] Enlarge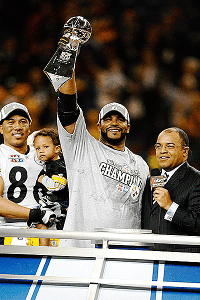 Matthew Emmons/USA TODAY SportsOn Jerome Bettis' Hall of Fame resume -- helping the Steelers capture Super Bowl XL.
The player known as "The Bus" got married in 2006, sixth months after he rolled gloriously into retirement, and he and his wife, Trameka, have an 8-year-old daughter, Jade, and a 6-year-old son, Jerome Jr.
Family life has kept Bettis as busy as his varied business interests and his work as an NFL analyst for ESPN and WPXI-TV in Pittsburgh.
"I do have moments when I feel like I'm Mr. Mom," Bettis said with a laugh.
His children have given him perspective and taught him patience, and Bettis has had to tap into the latter while waiting to gain entrance into the Pro Football Hall of Fame.
Is this the year that Bettis, who ranks sixth in NFL history in rushing yards, finally achieves football immortality?
Art Rooney II, the antithesis of the owner who talks just to hear himself talk, has said he will be disappointed if Bettis does not get into the Hall of Fame on his fourth try. It is simply time, Rooney said.
If Bettis is voted in on Feb. 1, the day before Super Bowl XLVIII, the last thing he will say is "what took so long."
"I understand the process now and I know that I can't become emotionally invested in the process because when you look at everybody on that list, not just the finalists, you look at the semifinalists, everybody deserves to be in the Hall of Fame," said Bettis, one of the greatest big backs in NFL history. "The fact that I'm [a finalist] is an incredible honor. Whoever gets in deserves to be in because all of the names on that list deserve to be in, but you can't put everybody in."
Bettis is one of
15 modern-day finalists
for the Hall of Fame along with two nominees from the Hall's veterans committee.
As few as four and as many as seven can be voted into the Hall of Fame, and Bettis knows as well as anyone that there are no guarantees. He no longer does the math or assesses his chances before the vote having been in this position for each of the past three years.
Enshrinement in Canton is something which Bettis has no control, and he is at peace with the argument he made for inclusion in the Hall of Fame by rumbling for 13,662 yards from 1993-2005 and making six Pro Bowls during that span.
"You take yourself through that journey and then that disappointment [of not making it] is natural, but you shouldn't be disappointed because it didn't affect my career," Bettis said. "I can't look at it that way because then it's kind of tainting my career. I had a heck of a career. I'm proud of everything I accomplished and so that's kind of the way I look at it. Hopefully my time will come."
And if it does this year?
"The way I look at it is I can't be selfish in that why am I not in now?" Bettis said. "I think when my timing is there I'll be in."