By Joe Starkey
http://triblive.com/sports/
Published:
Tuesday, Jan. 28, 2014, 10:42 p.m.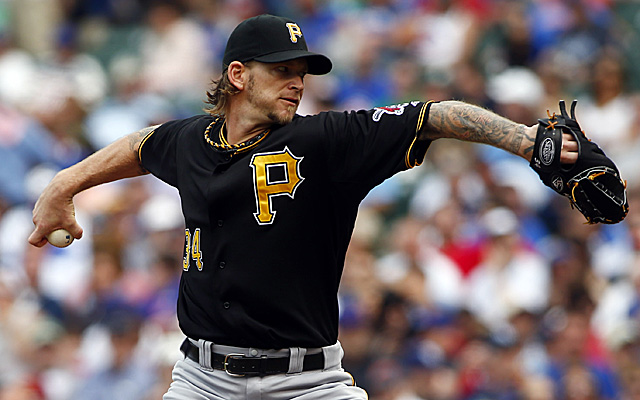 If this ends with A.J. Burnett pitching elsewhere and the Pirates holding an empty bag, don't blame Burnett. Blame the Pirates.
Presumably flush with real cash and promised cash from rising ticket prices, a nice postseason run, a local television deal that allegedly ranks in the "upper half" of Major League Baseball (team president Frank Coonelly's words) and a lucrative new national TV deal that will line every team's pockets — plus the luxury of a dirt-cheap roster — the Pirates easily could have afforded the $14.1 million qualifying offer to Burnett in November.
That wouldn't have guaranteed Burnett's return. Hardly. Of the 13 other players around the league who received $14.1 million qualifying offers, zero accepted. But it would have guaranteed the Pirates high draft-pick compensation if Burnett had signed with another team. And who knows? It might have been enough to entice him to play here for one more season. It would have been a bargain for the Pirates considering Burnett could fetch upwards of $20 million on the open market.
At 37, Burnett is coming off one of his best seasons, one in which he led all National League starters in strikeout and groundball rates. The idea that he wouldn't be missed is silly. The Pirates still would have a very good rotation, but they'll probably need a great one to overtake the St. Louis Cardinals.
Burnett might have started out as the No. 3 man in this rotation. In St. Louis, Michael Wacha — remember him? — could start as the No. 3 guy. This is a serious arms race, and the Pirates rotation looks as if will depend heavily on two guys (Francisco Liriano, Charlie Morton) who don't exactly boast robust durability records.
Burnett gives you 30 starts and 190 innings even in years where he misses time — like last year. He has shown zero sign of erosion.
There's still a chance Burnett returns — maybe the Pirates pony up now that all of their arbitration-eligible players have settled — but based on Travis Sawchik's report in the Trib, it seems like a small one. Sawchik reported that Burnett will play in 2014 and will open himself to the market. That sounds like goodbye.
The shame of it is that people will vilify Burnett based on his post-playoff interview with KDKA-FM, during which he loosely intimated that his decision on 2014 would come down to retiring or playing for the Pirates. He delivered the money line and an important qualifier.
However, right after that, he was asked if he was "pretty much going to play here or retire."
"As of right now, yes sir," Burnett said. "As of right now."
Well, sir, "right now" can become "back then" real fast when somebody aims a low-ball offer at your knees. A hometown discount is one thing. Taking way less than your market value is another. The Pirates weren't going near the bargain rate of $14 million. General manager Neal Huntington said he wasn't comfortable allocating such a large percentage of the payroll to one player.
That's understandable if you're talking about a $150 million deal or even a multi-year deal, but one year at $14.1 million? Even if it didn't pan out, I'm guessing the franchise would have survived.
All of which should not lead anyone to grand proclamations of Bob Nutting regressing to the days of epic penny-pinching. He has earned too much good will for that. Plus, the Pirates might prove right in holding off on Burnett. Maybe Edinson Volquez goes through the Ray Searage car wash and comes out throwing groundballs and strikeouts in Burnett-like fashion. Maybe Jameson Taillon makes everybody forget Burnett.
But can you reasonably count on that, plus good health among the rest of the starters? I defended the Pirates on not obtaining a left-handed-hitting first baseman (yet) and standing pat in right field. I can't defend them if Burnett pitches elsewhere. Pitching is different. Pitching is the great equalizer. Pitching is what could push the Pirates past the mighty Cardinals.
It's not too late to pony up, boys. At least give it a shot.


Read more: http://triblive.com/sports/joestarkey/5492481-74/burnett-pirates-million#ixzz2rn0wgH5Z
Follow us: @triblive on Twitter | triblive on Facebook