By
Scott Brown
http://espn.go.com/blog/pittsburgh-steelers
January 23, 2014
PITTSBURGH -- No one in the
Pittsburgh Steelers
' locker room should be more excited about the addition of offensive line coach Mike Munchak than rookie running back
Le'Veon Bell
.
Bell will be one of the biggest beneficiaries of the improvement that should take place up front with Munchak mentoring a young and promising offensive line. He should also thrive in the zone blocking scheme that Munchak is expected to make a staple of the Steelers'offense.
Bell is a patient yet decisive runner and that blend is perfect for zone blocking, which requires backs to read and react.
[+] Enlarge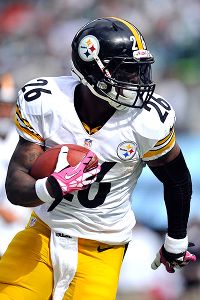 Joe Camporeale/USA TODAY SportsLe'Veon Bell's running style seems well-suited for the zone-blocking scheme the Steelers are expected to adopt.
Bell rushed for 860 yards last season despite missing the first three games with a foot injury and broke Franco Harris' Steelers record for yards from scrimmage for a rookie (1,259).
The 6-foot-1, 244-pounder is one of the biggest reasons the Steelers' offense could really take off next season, and he could get a lot better with Munchak now coaching the Steelers' offensive line.
Bell was the easy choice for the the Joe Greene Performance Award, which goes annually to the top Steelers rookie. While accepting the award Bell talked about how he watched the Steelers while growing up outside of Columbus, Ohio, and that he had always associated the team with cold weather and running the ball.
Bell never got a chance to see Harris play, but he followed
Jerome Bettis
and admired the way "The Bus" churned out tough yards on the way to a Hall of Fame-caliber career.
Bettis, it turns out, has been following Bell for a while, too.
The Detroit native kept his eye on Bell during the latter's career at Michigan State, and he applauded the Steelers' decision to take Bell in the second round of the 2013 NFL draft.
That pick looked better and better as the season progressed and Bell got more acclimated to the speed of the NFL game.
"I was really impressed at how well he developed," Bettis said. "He's a big, physical guy."
Bettis congratulated Bell via Twitter after the latter rushed for 124 yards in a Dec. 22 game at Green Bay, and he plans on talking to Bell in the near future.
"I'm definitely going to reach out to him at some point," said Bettis, who is an ESPN NFL analyst. "I'm a huge fan."