July 3, 2014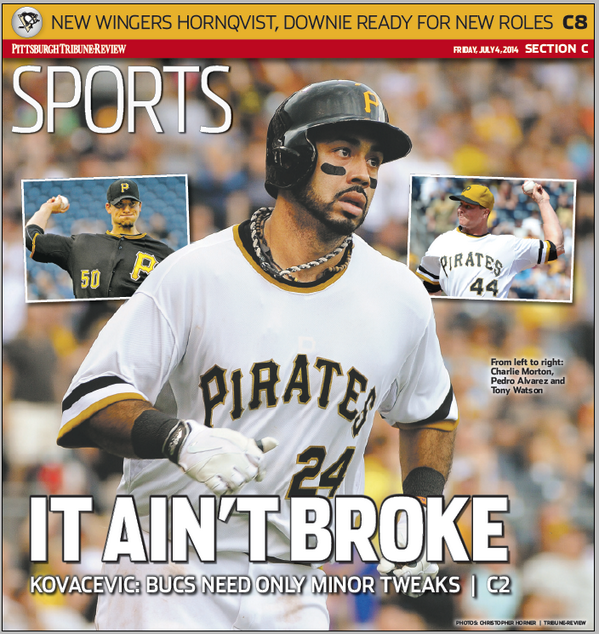 The not-so-long-ago-left-for-dead Pirates enter this Fourth of July three games above .500, within whiffing distance of the National League wild card and still, somehow, in reasonable striking range of the Central lead.
And no, this isn't just some Polanco Effect. Fact is, their record was 17-13 in the month before Gregory Polanco's arrival, thanks to the league's top offense in that span. Their record is 14-8 since his arrival, largely against bottom-feeders.
That's not an Effect. It's an Extension.
I'd been writing, even through that awful April, that this team was underachieving. And it was, first with the bats, then with the arms, then with a slew of other sloppiness. But this recent run — again, considering the competition — has represented the first sustained stretch of more than one cylinder firing.
"I don't think there's any question," Josh Harrison was telling me before Thursday night's momentarily deflating 10-2 drubbing by the Diamondbacks at PNC Park. "You're starting to see a lot of things come together. It feels good, too. It does."
He's right. It does.
So here comes another sensational summer of raising Jolly Rogers, taunting Johnny Cuetos and plunging into the Allegheny, right?
Yeah, me, neither. Not yet.
After spending this series at PNC Park, here are my three wholly unsolicited suggestions for how to make contention at least
feel
a lot more concrete:
3. PLATOON PEDRO.
This isn't as drastic as it might come across. The Pirates have faced only a dozen lefty starters all season, barely one a week. And it's not like it wouldn't be deserved, with Alvarez batting .193 with two home runs vs. lefties compared to .253 with 11 home runs vs. righties.
The nutty figure in that equation is that Alvarez's 57 at-bats against lefties are second-most on the roster.
Seriously, why?
Sit Alvarez in favor of Harrison vs. lefties — as Clint Hurdle did Thursday by pinch-hitting Harrison — and it creates not only another avenue for Harrison to stay in the lineup, but also maybe a chance for Alvarez to stabilize.
Did you catch Hurdle's strikingly candid response earlier this week when asked if Alvarez has been making progress?
"We need more consistency," the manager came right back. "We can cherry-pick numbers and get good and get bad, but looking at the whole context, the consistency is what we're looking for."
Well, it just might help Alvarez to not even sweat facing a lefty the rest of the way. Let him build off what works. Let him feel good about himself for more than a day or two.
No one in this lineup, not Andrew McCutchen, not Polanco, could singlehandedly elevate this offense into something special quite like Alvarez.
2. LET WATSON CLOSE.
The best move the Pirates could have made this summer might already have been made in the shipping out of Jason Grilli. And I'll throw in Bryan Morris, too. The latter isn't mentioned much, but those two were charged with four blown leads each while here, accounting for more than half of the still-league-leading total of 14. The bullpen's better without them.
But it could be better yet if Hurdle opened himself to two closing options, rather than going exclusively with Mark Melancon. Tony Watson should at least be involved. He's been among the best relievers in baseball, he retires batters from both sides, and he's displayed the mental toughness to protect 24 of the 27 leads with which he's been entrusted.
It's classic, antiquated baseball foolishness to think only one person can carry the closer's title at a time, but that's clearly Hurdle's stance.
"I like the order, the roles we've got going," he reiterated during this series.
The Pirates have seen already how one crumbling closer can crush a team. They must do better to avoid a sequel.
1. UM … NOTHING?
When past trade deadlines approached, even last July, obvious vacancies cried out to be filled. But if there's any such thing this summer, I'm not seeing it.
That's not to suggest every position is manned by an All-Star, obviously. But it's keeping within realistic circumstances.
First base could be better. The position's cumulative .705 on-base plus slugging percentage ranks 24th in the majors. But Ike Davis was acquired for the long term, and he's batting .266 with four home runs vs. righties, which is all that counts in a platoon. That's not nearly enough pop, but he's traditionally shown his best power in July. Platoon partner Gaby Sanchez is batting .283 vs. lefties despite comically bad luck with liners right at gloves. He's due for a few to fall.
Shortstop could be better, too. The position's .629 OPS ranks 25th in the majors. But Jordy Mercer has followed an awful April and May with a .301 average and five home runs in the past 30 games, combined with sound defense. He's 27. Giving up on him right now would be senseless.
So we're talking pitching.
"I don't know. Are we?" Jeff Locke mused when the topic arose the other night. "What are we missing?"
Fair enough.
The bullpen could use another arm, as Ernesto Frieri already is demonstrating. But any meaningful move would have to involve the starters. And I'm just not seeing that as mandatory anymore, given the surprise emergence of Vance Worley — who was mostly sharp again Thursday in defeat — and the not-as-surprising resurgence of Locke.
Would it hurt the Pirates to bring back, say, A.J. Burnett?
Of course not. He's been strong of late for a Philadelphia team going nowhere, with 18 strikeouts in the two starts leading up to his PNC Park return Sunday. The Pirates absolutely have the cash to pay the prorated portion of his $16 million salary. And spare me any nonsense about clubhouse issues. The clubhouse was just fine in 2013, and A.J. was a
huge
part of it.
At the same time, consider the current options: Worley, Locke, Gerrit Cole, Charlie Morton, Edinson Volquez and Brandon Cumpton have combined to go 12-6 with a 3.07 ERA over the past 23 games. Francisco Liriano, the Alvarez-scale variable on the pitching side, is due back soon. And just on the horizon is surging prospect Nick Kingham in Indianapolis.
Want to mess with that much?
"Just the fact that Cumpton
isn't
here right now says so much about where our pitching is," Clint Barmes was saying. "And our offense has been there for a couple months. We're winning. We're playing good baseball. It's hard not to like where we are right now."
Might not be the smartest time to throw everyone a curve.
Dejan Kovacevic is a staff writer for Trib Total Media. Reach him at
dkovacevic@tribweb.com
or via Twitter @Dejan_Kovacevic. Add Dejan Kovacevic to your
Google+
circles.


Read more: http://triblive.com/sports/dejankovacevic/dejancolumns/6377582-74/alvarez-pirates-runs#ixzz36Uml80z4
Follow us: @triblive on Twitter | triblive on Facebook