By
Mark Simon
http://espn.go.com/blog/sweetspot
July 10, 2014
Josh Harrison (.297, 5 HR, 27 RBI) hits a ground rule double to drive in two runs in last night's 9-1 win in St. Louis. (AP)
You may think that
Pittsburgh Pirates
infielder/outfielder
Josh Harrison
is on the All-Star team simply because of his versatility in the field.
But there's a pretty good case to be made that Harrison belongs on merit regardless of where he plays.
As Dejan Kovacevic wrote in the Pittsburgh Tribune-Review last week
, Harrison is the kind of player that everyone can like, and that's particularly true if you're into advanced statistics.
Harrison is going to play more this season than any other season in his career, and that's because both the numbers and the eye test show that he can do just about everything well. He has been worth 2.2 Wins Above Replacement this season. The Pirates are 30-21 when he starts and 17-23 when he doesn't.
He can hit
"Every at-bat is different, because of the count, the number of outs and the pitcher, but nothing really changes for you," Harrison said by phone on Wednesday. "Your objective is to have a good at-bat."
And what's a good at-bat for Harrison?
"Hard contact," he said.
Harrison has had a lot of that this season. ESPN uses a service that reviews video of every at-bat and rates balls as hard-hit, medium-hit and soft-hit based on velocity, distance and sweet-spot contact.
Harrison ranks 15th in the major leagues in the percentage of at-bats that have ended with hard-hit contact (22.5 percent). That's ahead of players like
Mike Trout
and
Giancarlo Stanton
and not far behind teammate
Andrew McCutchen
.
It's not the first time Harrison has put up good hard-hit numbers. His hard-hit rate was 22 percent two seasons ago in a year when good results didn't come with the hard-hit balls (a .233 batting average).
"Maybe some of the people [who chart that] are surprised, because they hadn't seen me hit before," Harrison said. "But this is what I've been doing all my life. I've always had a pretty good idea of what I want to hit."
Harrison is hitting .391 (18-for-46) with runners in scoring position, and has gotten his share of clutch hits (including a recent walk-off double against the
New York Mets
). He's also hitting .382 the second and third times he faces a starting pitcher (34-for-89), perhaps indicative that he's winning the battle of adjustments.
"The more familiar you are with a guy, the more you see his arm angle and see his pitches, the higher the probability of hitting the ball harder," he said.
Harrison doesn't profess to have a thinking-intensive approach, but it's clear he knows what he's doing. The image below shows he covers both halves of the plate well: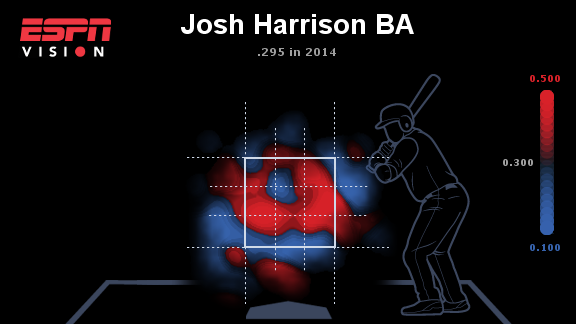 ESPN Stats & Information