Confidence, leadership are important to center fielder's hopes for future
June 24, 2014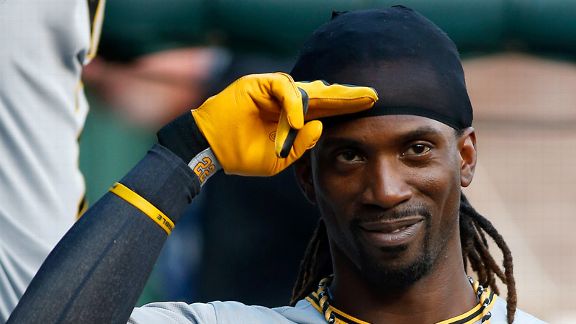 Tim Heitman/USA TODAY Sports
Andrew McCutchen wants to be a strong leader to help the Pirates win the World Series.
For Sessions, a new regular feature, ESPN.com's Scoop Jackson sits down with the big names in sports for an in-depth interview about life beyond the game. This time reigning NL MVP Andrew McCutchen of the Pittsburgh Pirates sits down. Andrew and Scoop have known each other for a few years and caught up with each other to discuss McCutchen getting engaged on "The Ellen DeGeneres Show," his prediction that he would win the MVP, the struggle between being the best player versus the best leader and why they both feel hitting major league pitching is the most difficult thing to do in all of sports.
Scoop: The engagement? Really? On "Ellen"? (McCutchen laughs.) That there was a big move. Is there some sorta supreme confidence you got?
McCutchen: I think that honestly, it's a different set of confidence, but it's love at the same time. Because if it's someone that you love you are gonna do whatever it is to show them that you love them. So, the opportunity was presented and I just jumped on it and said, "Yeah, I'ma do it!"
Scoop: But everyone doesn't have the confidence, you know what I'm saying? To me, it relates in the same way with you and what you told me about the MVP. Does that say something about who you are, that you have that kind of extra internal confidence?
McCutchen: I think it does, but just like I said, at the same time it shows love. If you love someone, you are supposed to give them your life, so why wouldn't I get on television and tell you how I feel? When you love someone, you are supposed to be willing to die for that person. So what makes me say that I wouldn't give up my life for that person if I couldn't go on television and tell them that?
Scoop: That's true, and for the record, a couple of years ago, you told me...
McCutchen: I told you (laugh)!
Scoop: You did tell me: "I'm going to win the MVP..." And wait, then you said, "Next year!" Meaning, last year!
McCutchen: I did say that (still laughing).
Scoop: What the hell kinda confidence is that? Dude, that's a bold statement. It's one thing to say you're gonna get the MVP, a whole 'nother to actually go out and do it.
McCutchen: Well, you know I had a lot of motivation to get me to work to where I needed to be. Getting to try to work out a contract [with the Pirates], and you know how contract talk works: a lot of comparables, people saying you might not be good enough for this; "Your numbers don't say this, so you're not good enough." So I had some motivation going into the next season, basically saying to myself: "You know what? I'ma show them how good I am."
Scoop: An MVP basically means that for one season, you are the best player in the game. So was that whole thing just you looking around the league and saying to yourself, "I can push myself to be better than everyone else?"
McCutchen: Definitely. Look, coming up through the system ever since I was say 19, in Double-A trying to figure things out, I was always doing a lot of what coaches wanted me to do. As far as the way I hit, the way I just played, it was more them. They were trying to help, but I got out of what I wanted to do. So finally, I just told myself, "I'm going to do what I wanna do." And I know myself better than anyone else knows me, so it was just like, "Let me get comfortable." And that's what I did.
Scoop: So it was like, "I got the fundamentals down, everything they've been telling me, now let me do me."
McCutchen: Exactly! That's exactly what I did. And I went with it from there. And when I came in they looked at me and said, "Oh, you look a little different." Yeah, I'm doing what I wanna do! It went from there and I put up the numbers to back it up.
Scoop: Did the game become different for you from then? You know, did it become more fun, looser? Allow you to think less/play more?
McCutchen: Yeah, once I was able to let go of some of the things I would normally thinking about, because you know, a lot of this game is mental. A lot of what we do is mental. ... so once I got past that, the game itself did slow down because I wasn't thinking so much. It was more about trying to help other people than just thinking about myself or how can I help myself. It was more of, "let me help others and when I go out, I just go out and play." And once I was able to get there, the game did get a little easier for me.
[+] Enlarge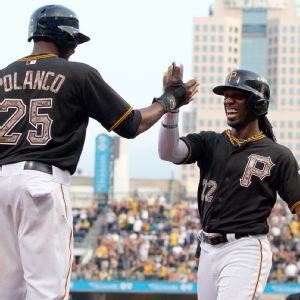 Justin K. Aller/Getty ImagesEntering Tuesday's games, Andrew McCutchen is batting .317 with 11 home runs and 45 RBIs.
Scoop: Now you also told me that if you all didn't win the World Series [last year], it was on you!
McCutchen: [Laughing] Yeah, yeah...
Scoop: But you did take them to the playoffs, you all made the postseason. Which was huge! [Note: The Pirates made the postseason for the first time since 1992, at the time the second-longest postseason drought in MLB]. So can't hold that against you. But now what's your goal/prediction?
McCutchen: Still what it was before, the World Series. Winning the World Series. Some of me saying that then had to do with me getting myself to where I wanted to be and I feel like I'm there now. Um, I feel like I'm establishing myself to be that player that I want to be, and now it's just, what can I do now to be an example? A leader in the clubhouse on this team? And just getting up to that next level and next step?
Scoop: Are you the type of player who looks at other players in other sports or even inside of your own sport and draws inspiration and motivation from them? Like do you feed off what other athletes are doing?
McCutchen: In a sense I do because I feel like everyone, the elite players who are leaders of their teams, they had to start somewhere. They weren't born or they didn't start [off as] a leader when they got to wherever they are. Look at, um, Kobe Bryant. He didn't start (as a) leader, you know. He developed into one. I look at things like that because I was there too. Coming up, I didn't say anything around the clubhouse. It wasn't my time to speak. I didn't want to speak, I just wanted to learn and listen. Now that I've been around a little bit, I feel like now is a good time to where I can stand up and speak and people are going to pay attention, they're going to listen. Basically that's where I'm at right now.
Scoop: It takes everyone a different amount of time to get there, though. You have to growinto that situation.
McCutchen: It does because a lot of times you think about what others are going to say. What others are going to think. You don't want people to think, "Ah, 'cause he's playing well he feels like he can talk now." Or something like that. It takes the respect of certain players, coaches, teammates, it takes all of that to earn that respect and them knowing that I'm not here to tell them what to do, I'm here to help. I take ownership with how I perform, but at the same time I know that my teammates know that when I'm talking, I'm not telling them what to do. I'm just trying to help.
Scoop: But that's a fine line you gotta draw. You know what I'm saying. everyone's not gonna take or see it like that. That said, let me ask this: What's more important: Being the best player or being the best leader?
McCutchen: I'd have to say being the best leader. Like I said before, the game is mental, so I feel like if you can be the best leader that you can possibly be you are going to help other people as a whole. This game is a team sport. No one can win in this sport on their own. You know, I can go out and hit .200 and we'd still win the World Series because you know, I was saying the right things and doing the right things to help the team win. Or individually I could hit .330, .340 with 30 [home runs] and 100 [RBIs] and we still don't make the playoffs, that makes me a great player but it's not benefiting [me] as a whole.
Scoop: So you'd rather have your legacy be that of a great leader than being one of the greatest players of your generation?
McCutchen: Uh, yeah, I'd like to be that, but at the same time...
Scoop: You want to be both [laugh]!
McCutchen: Yeah, I wanna be both, but my goal is to win a World Series. And whatever that takes, that's what I'm going to do.
Scoop: Man, I've always been a believer that hitting major league pitching is the hardest thing to do in all of sports. Being an NHL goaltender might be No. 2. No bias, but [are] you with me on this or not?
[+] Enlarge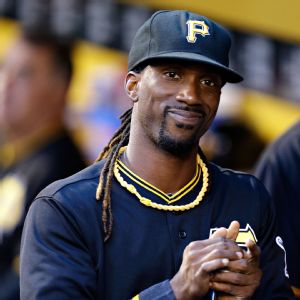 AP Photo/Gene J. PuskarAndrew McCutchen admires the skill it takes to play his sport.
McCutchen: I have to say, I agree. I'm with you. Because the most athletic person -- people -- in the world who have never played baseball trying to do that, it can make them look really unathletic. I mean, you have superstar basketball players, superstar football players, whatever other sport there is, they can be a superstar in their sport, but get asked to throw out the first pitch ...
Scoop: [Starts laughing hard]
McCutchen: And they look like ...
Scoop: 50 Cent.
McCutchen: [Laughing] Yeah, Fifty. That's exactly what I'm trying to say! This game can make you look really unathletic because it is a difficult sport, if not the most difficult.
Scoop: Here's my thing: Name me another sport where if your success rate is 30 percent, you are a Hall of Famer? Any hitter in baseball who hits .300 for a career is in consideration for the Hall. That right there tells you how difficult it is to hit major league pitching, that validates my point. I don't know any other sport where if you do 30 percent of your job ...
McCutchen: Let an NFL QB have 30 percent completions, naw! Or an NBA player shoot 30 percent from the field [laughing], naw!
Scoop: Let a goaltender in the World Cup only stop 30 percent -- he can't go back home. He's in witness protection.
McCutchen: Yeah. Exactly.