Pittsburgh Penguins
captain
Sidney Crosby
will have arthroscopic surgery on his right wrist to repair damage that "impeded his performance in the postseason," the Pittsburgh Post-Gazette has reported, citing a source close to the star.
[+] Enlarge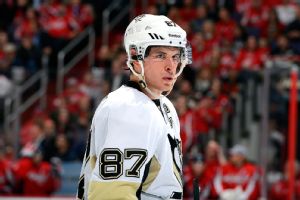 G Fiume/Getty ImagesSidney Crosby won the Hart Trophy as the league's MVP after scoring 36 goals and tallying 68 assists for the Penguins last season.
The Post-Gazette reported the surgery -- a last resort if therapy did not resolve the issue -- was not a "major" procedure but that Crosby's injury wouldn't allow him to play up to his standard without it.
Crosby was the regular-season points leader with 104, but in the playoffs he had just one goal and eight assists in 13 games, a stretch in which it became evident there was tension between Crosby and coach Dan Bylsma.
Bylsma and general manager Ray Shero were fired five years after winning the Stanley Cup.
Crosby was not expected to miss any regular-season games, the Post-Gazette reported.
Crosby won the NHL's MVP award after a season in which he played 80 games for the first time since the 2009-10 season.