July 2, 2014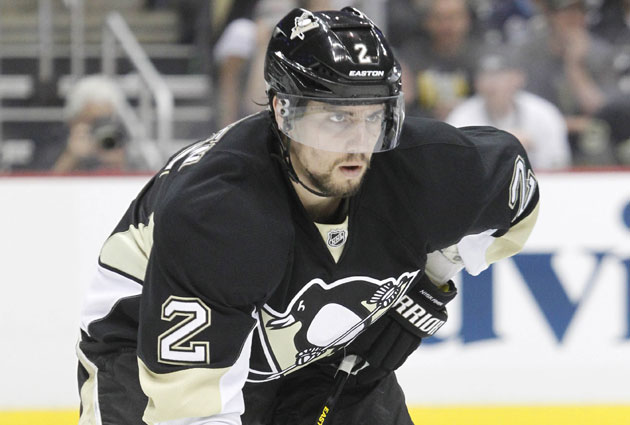 Matt Niskanen, who had one tremendous season in Pittsburgh, signed a 7-year deal for $40.25 million.
What a day. What a bizarre, entertaining and wholly unprecedented day.
It wasn't the first time NHL general managers lost their minds on the first of July. That happens every year.
But this felt different.
This felt psychotic.
Somebody paid Tanner Glass $4.35 million to play ice hockey.
It all began at noon with one of the few doses of sanity we'd see for the next 12 hours — the
Penguins
signing slick defenseman Christian Ehrhoff for one year at the bargain rate of $4 million.
How very sensible.
Seconds later, all NH-hell broke loose. By 4 p.m., half a billion dollars (on just 70 players) had dropped like ticker tape across North America. TSN reported it as a record day, breaking the old mark of $384 million in 2009 — and this for a shallow talent pool in a year where the salary cap barely will increase.
Somebody paid Matt Niskanen (God bless him) $40.25 million.
In attempting to follow the news, I felt like Marc-Andre Fleury against the Philadelphia Flyers in the playoffs three years ago: wicked one-timers coming from all angles. I had to check news items multiple times before I believed them.
Surely, I figured, somebody dropped this bomb from a fake Bob McKenzie account: "Engelland gets three-year, $8.7 million contract from Flames."
I frantically went through my mental Rolodex. Is there an Engelland not named Deryk in the league?
Somebody paid Dave Bolland and Jussi Jokinen a combined $43.5 million.
At the end of the day, my mission was to try to make sense of it all. And now I felt like Herb Brooks when he was asked to describe a five-overtime loss to the Flyers.
"Where do you start?" Brooks said. "And where do you finish?"
That's part of the fun, I suppose. So let's give it a shot, paying particular attention to Penguins and ex-Penguins
…
• Top quote: "We don't have to have our team all set for a playoff run in September." — Penguins general manager Jim Rutherford, after signing Ehrhoff, goalie Thomas Greiss and winger Blake Comeau.
All three Penguins teams that won the Stanley Cup changed significantly during the course of the season. The same was true of Rutherford's 2006 Cup-winning team in Carolina, which traded for Mark Recchi at the deadline and discovered a rookie goaltender named Cam Ward.
I like what Rutherford has done so far. He has time to make other moves. There are no games in August. No meaningful ones until April.
• Top quote (runner-up): "That's probably a better question for the people that gave out the contract." — Brooks Orpik, asked if he's worth the money (five years, $27.5 million) the Washington Capitals dished out.
The Capitals overpaid here. All but a few didn't overpay on this day. But I like the Orpik deal more than most (maybe the league-wide bout of insanity got to me) for a simple reason: Orpik changes the culture of that dressing room the instant he walks in. The Capitals don't know how to win. Orpik can teach them. He can still play, too.
• What becomes of Paul Martin?
It appears the Penguins have no interest in trading Martin, a superb player entering the final year of his contract. Rutherford went so far as to say, "Hopefully he can play here for several years."
Don't bet on that. If Orpik can fetch $27.5 million, somebody might give Martin his own country. My preference would be to parlay Martin for help up front, but I certainly understand Rutherford's position. He's a hired gun. His time here is short. If ownership tells him it doesn't mind losing Martin for nothing after next season, why not keep him?
• What do we make of the Penguins signing another goalie?
Love it. Rutherford used the same logic Ray Shero did in signing Tomas Vokoun two years ago: It gives him a veteran option for the postseason. Greiss is an upgrade over Jeff Zatkoff and one of the best below-the-radar signings of the day.
• Comeau excite you?
Not especially. What I remember most about Comeau is Max Talbot leveling him like a bowling pin and that being one of the incidents that led to the melee with the New York Islanders a few years back.
But he'll do, perhaps even as a third-line right winger. I could live with a Nick Spaling-Brandon Sutter-Comeau mix.
• What happens with the first two lines, and what if Geno's mad?
Geno will be fine. The problem is that the Penguins appear to have three right wingers in the top-six mix. Possible solution? Move Pascal Dupuis to Malkin's left with Beau Bennett or Patric Hornqvist on the right. Then you have Kunitz, Crosby and the other right winger on the top line.
I wouldn't be shocked if Rutherford finds a way to add to his top six. He said he'd like to appease Malkin. He still might.
What I like best about Rutherford so far is that he appears to have no panic in him.
He didn't have much company Tuesday.


Read more: http://triblive.com/sports/joestarkey/6372680-74/penguins-million-rutherford#ixzz36JNNVR5S
Follow us: @triblive on Twitter | triblive on Facebook