By
Scott Brown
http://espn.go.com/blog/pittsburgh-steelers
June 30, 2014
PITTSBURGH -- The speed and playmaking ability that
Mike Mitchell
flashed during his breakout season in 2013 certainly attracted the Steelers to the hard-hitting safety.
What the Steelers also have to love about their most significant free-agent acquisition is his makeup.
One thing that stood out during Mitchell's introductory news conference in March, shortly after he signed a five-year $25 million contract with the Steelers, is his desire to be great. And the competitiveness he showed during the practices that were in helmets and shorts only reinforced how much Mitchell wants to establish himself as one of the top safeties in the NFL.
[+] Enlarge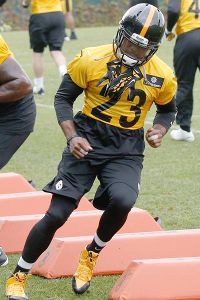 Keith Srakocic/AP PhotoNew Steelers safety Mike Mitchell has used perceived slights as inspiration as he enters his sixth NFL season.
Mitchell took a significant step toward that goal last season when he intercepted four passes, notched 3½ sacks and forced two fumbles for the
Carolina Panthers
. When I asked him recently if he felt he should have made the Pro Bowl in 2013, Mitchell said, "Absolutely."
He also added this: "I don't really care about Pro Bowl. I want to be All-Pro. I have to do what I did last year again plus get better. A lot of times last year people were talking about the front seven I played with and they were very talented. Sometimes you're overlooked, but that's just another chip to put on my shoulder and play football."
Mitchell has already collected his share of chips -- from playing his college ball at a Mid-American Conference school, the widespread derision heaped on the
Oakland Raiders
when they took the little-known Ohio University product in the second round of the 2009 draft, to being overshadowed on the Panthers' defense last season.
Whether Mitchell's success stemmed from a front seven that included sack master
Greg Hardy
and tackling machine
Luke Kuechly
is irrelevant. That there is a perception that Mitchell's spike in performance can be attributed to the players who were around him following four nondescript seasons in Oakland is another perceived slight that drives the 6-foot, 210-pounder.
Mitchell will get plenty of opportunities to show his worth on a Steelers' defense that badly needed to add playmakers. And his speed and versatility gives defensive coordinator Dick LeBeau another chess piece he can move around to outwit opposing offenses.
"Mike Mitchell is very fast and a good, solid tackler. An excellent blitzer, actually," LeBeau said. "I looked at quite a bit of his tape during the free agency period and you had to look pretty far to find any weaknesses."
That includes above the shoulders.
Mitchell is a heady player who seems to have a pretty seamless transition while learning a new defense and adjusting to new teammates and a new city.
Mitchell is working out in Miami prior to the start of training camp and no doubt spending extra time in his playbook. His pursuit of greatness starts in earnest once the Steelers report to St. Vincent College in Latrobe, Pennsylvania, on July 25.
And the Steelers would love nothing more than if Mitchell takes the next step while wearing black and gold.
"I'm at the point of my career where it's time to prove it," said Mitchell, who turned 27 earlier this month. "If we could play
Tom Brady
,
Drew Brees
,
Matt Ryan
,
[Joe] Flacco
in that order I'd want to run through it. I want to be the best."