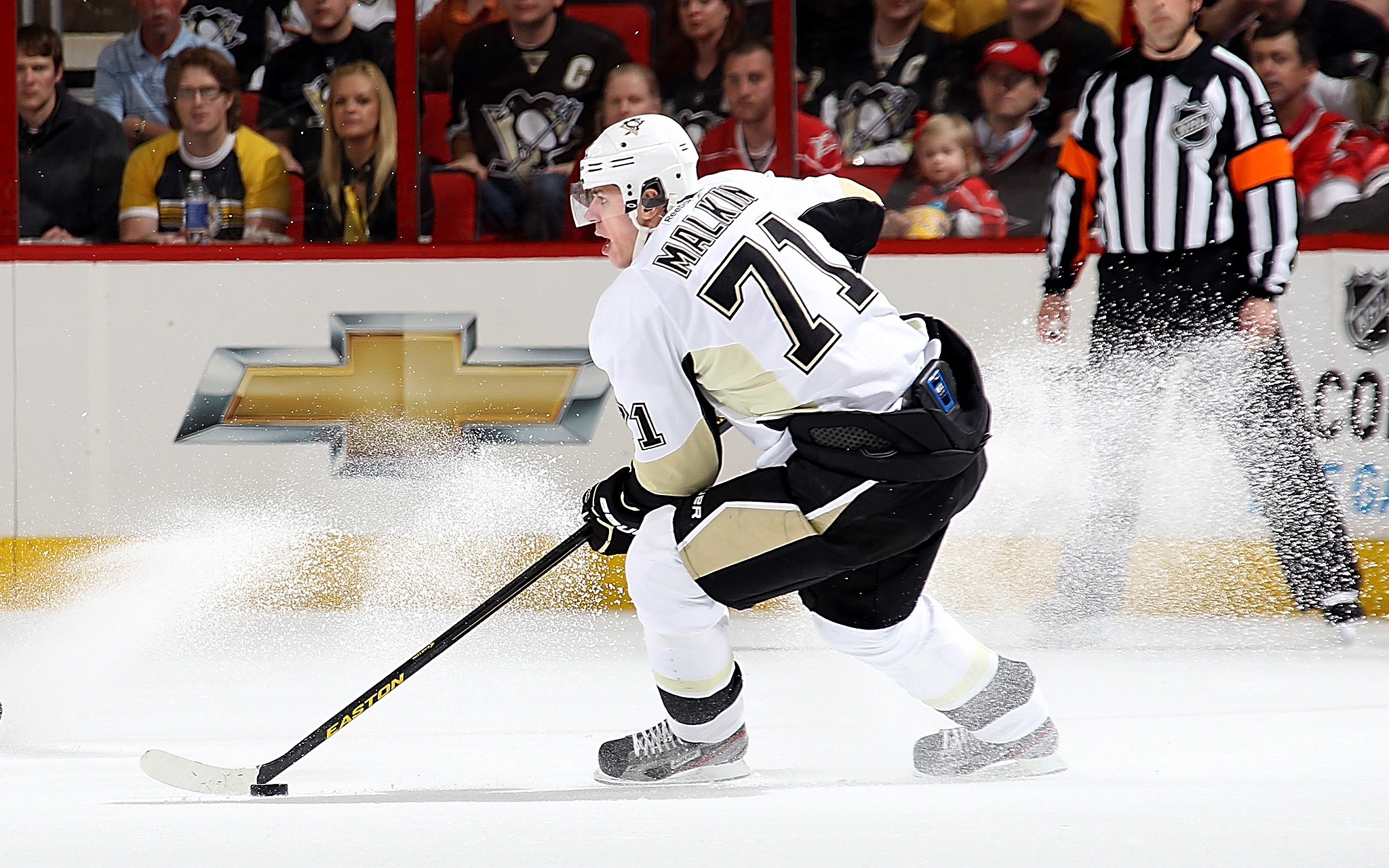 Evgeni Malkin finally is ready to listen, so new Penguins coach Mike Johnston better say all the right words. The season could be at stake.
Johnston leaves this weekend for Moscow, where he will spend four days with his most important player.
Win over Malkin, and Johnston would take the biggest step toward turning the Penguins back into Stanley Cup contenders. Leaving Moscow without Malkin's support would prove disastrous.
The Penguins are captain Sidney Crosby's franchise, but they must become Malkin's team.
This is no knock on Crosby, the face of hockey in North America. He just can't do what Malkin can for the Penguins' dressing room dynamic. Crosby's calling is bigger, no matter what management might think. His responsibility is to help the Penguins win and the game grow.
Malkin never has done anything but play, and playtime is over because the Penguins need more from their other future Hall of Fame center.
Malkin must take ownership of the dressing room. A coach implored him to do that once. It was Michel Therrien, and over the next two seasons, the Penguins belonged to Malkin as much as, if not more, than Crosby.
He was hockey's dominant force from January 2008 through June 2009. The Penguins won seven of eight playoff series over that span. The one they lost was the 2008 Cup Final, and Malkin melted in it until the last two games. A year later, he was the playoff MVP of a championship team.
Johnston will have about eight hours to think during his travels from Pittsburgh to Moscow. He should think hard about the best months of Malkin's career and the Crosby-Malkin era, those 18 months after Therrien challenged Malkin to become "The Man."
There isn't a lot to love about playing for the Penguins right now.
Does anyone remember laughter?
That had disappeared in the final days — if not seasons — of coach Dan Bylsma's tenure. A few more jokes in November would do them better than a video session.
Nobody jokes better than Malkin, as wingers from Ryan Malone to James Neal learned the hard way. Malkin uses humor to disarm and distinguish himself. He can use it to help melt the cold that has crept into the room.
Johnston must convince Malkin to earn his "A" as Crosby's top alternate. Malkin will do that by accepting that he needs to have Crosby's back by imposing his will — and personality — on the team.
Now is the only time for Johnston to deliver that message to Malkin. Training camp will be too late.
Malkin's dearest friend, Sergei Gonchar, leaves for Moscow on Friday. That same day, Penguins strength coach Mike Kadar will make his third trip in four years to work over Malkin at the Red Army training facility.
Not many people in Pittsburgh have seen what Malkin is like while in Moscow, the city he has adopted, the one to which he briefly fled to find comfort after an emotionally crippling Winter Olympics in February.
Having seen it two years ago, it's enlightening.
Malkin always is himself, but in Moscow, he is most at ease and reachable, Gonchar said.
That is why Malkin extends invitations — to Kadar, his agent, asset manager and select others — in late July and early August.
The time to get to Malkin is now or never.
"He's more relaxed there," Gonchar said. "I would say it's good to meet him in this environment."
Malkin is famously inaccessible during the summer. He shelves his iPhone. He does not check email. He's at the beach or his apartment or in a club with friends or eating cake at Café Pushkin.
Johnston is about to meet a Malkin so few have, and he has to deliver a hard sell on the culture change that ownership mandated after firing the former general manager and coach in the wake of another playoff flameout.
Malkin turns 28 next week. He is old enough, experienced enough and has seen enough disappointment to realize he must be more than just a great player going forward.
The Penguins believe they are a Cup contender, but title-threatening teams don't make the changes they have this offseason.
The biggest problem is the dressing room. Johnston, a first-time NHL head coach at 57, has to fix it before he can fix anything else.
He needs help.
He needs to leave Moscow knowing he will have it from Malkin.
Rob Rossi is a staff writer for Trib Total Media. Reach him at
rrossi@tribweb.com
or via Twitter @RobRossi_Trib.


Read more: http://triblive.com/sports/penguins/6482339-74/malkin-com-sports#ixzz38Nsmtk2x
Follow us: @triblive on Twitter | triblive on Facebook